Title:
New Barrels, French Oak Staves and Chips
Date Posted:
Thursday, May 14th
Location:
Arroyo Grande, CA
We have beautiful barrels in stock ready to ship at the prices and availability bellow.
NEW FRENCH OAK BARRELS
:6 Barrels bord 225L (M+) $999
5 Barrels burg 228 L ( 5 LL) $999
2 Barrels 500 Litres (1M+ and 1 ML) $1700

If you need more than whats listed there is a price list attached for barrels to order. Get your order in now!

We also have pallets of oak staves and chips in stock and ready to ship, price list attached.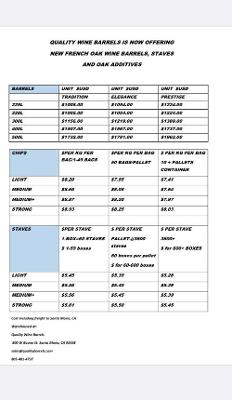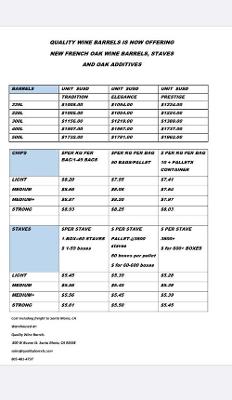 Quality Wine Barrels Cooperage
Tamara Wynn