Flash Détente Comes to Lodi: Della Toffola Unit Deployed for 2010 Crush
Posted on October 17, 2010

Lodi Vintners, a custom crush facility in Woodbridge, California, is now the second winemaking facility in North America to operate a thermal flash unit for crushing grapes, a unit made by Italian supplier Della Toffola Group in a partnership with Hahn Estates for the 2010 crush.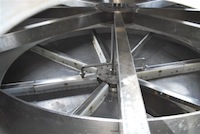 Though flash units are used widely in Europe, South America and Australia, the technology is new in the U.S. Sixty flash units have been set up throughout the world. The first commercial unit in the U.S. was installed just prior to the 2009 crush at Monterey Wine Company. The unit in Monterey is made by the Pera of France and can process 20 tons an hour.
"It's crazy that California hasn't had this technology before," Barry Gnekow, senior winemaking consultant with Hahn Estates said. "We're supposed to be the technical leaders in the world, and we didn't know this existed until a-year-and-a half ago."
The technology involved in is a vacuum chamber that hot grapes are pumped into. Water associated with the skins of the grapes immediately "flashes" into steam, hence the term flash. The vacuum explodes the vacuoles in the skins of the grapes, leading to an immediate extraction of color from red grapes. Pyrazines come off with the flash water. Water that is "flashed off" in the vacuum chamber and re-condensed is loaded with those pyrazines so there is a decrease in "vegetal" character of the wines.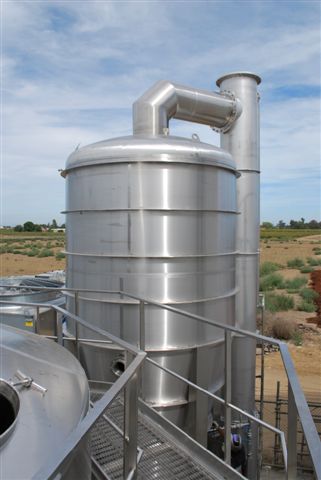 The new unit in Lodi is made by Della Toffola and can process 30 tons an hour.
Gnekow expects a lot of interest in it, especially in a year like this. "A lot of people will want to run fruit through it because the grapes are really struggling to get sugar," he said. "It can do so many things, but it removes those green, bell pepper notes that are a problem, and it knocks off the mold and botrytis. We're going to have those this year."
Researchers with UC Davis are interested in samples of the wines processed with the flash unit and hope to generate some data. A major commercial wine laboratory is interested in generating data for winemakers on how flash knocks out botrytis, molds, and drops the microbiological loads of incoming grapes.
Flash helps increase sugar levels in wines because it removes 6 to 7 percent of the water. Though the technology was initially developed for grapes with "problems" it has shifted to being used in areas such as Bordeaux where there are issues attaining ripeness some years.
"The real problems winemakers are dealing with this year are horrendous," Gnekow said. "This can help mitigate a lot of that. At the end of the day, (flash) makes a better wine."
Michela Della Toffola said her company has manufactured flash units for 15 years with installations in Australia, South Africa, China, France and Italy. In Tuscany Villa Banfi operates a unit. The flash unit in Lodi, which cost approximately $1 million, was manufactured in Italy and in South America where labor costs are lower.
Why did it take so long for flash to be deployed in the U.S.? "Good question," Della Taffola said. "Actually we did some trials in 2001 with a small pilot unit at the University in Fresno with other winemakers, but it was too early."
A test unit is currently being evaluated by Vincor in Canada through WIne Secrets.
"We are really liking it.," Lodi Vintners general manager Tyson Rippey said. "It's been a learning curve. There's only two in the country, so it's not like you can just find an operator by putting an ad on winejobs.com."
"There's so many different ways you can use this unit, it's almost like the possibilities are endless. Some of our clients today were flashing the fruit, and shipping as must, and we can flash and press it and ship it as juice. The winemakers we work with all seem to think its doing a really great job."
Rippey said there's a strong possibility another flash unit will be installed at the Carneros Vintners custom crush facility in Sonoma County. "It's going to be interesting to see how the North Coast winemakers react to this process and whether they're open to it or not."
How winemakers will use flash will evolve over time. Gnekow compared the possibilities the new machine offers to a stove in the kitchen, saying, "It's not the stove, it's how the chef operates it."


Website:
http://www.dellatoffola.it/