2010 Cork Harvest Restores Inventory Levels
Posted on October 06, 2010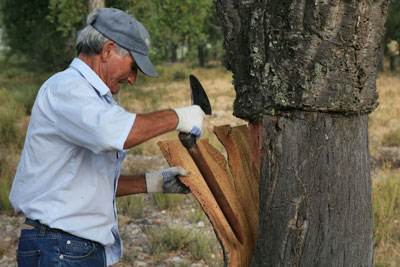 Weather conditions contributed positively to the 2010 Portuguese and Spanish cork harvest, creating excellent growing conditions and providing for generous growth of the annual cork layer. A very rainy winter and spring, where precipitation levels in January and February were 30 percent higher than the average, made for a late, long harvest running through the end of August.
The cork harvest has come in at 300,000 metric tons, rising approximately 36 percent over 2009's production, according to Jochen Michalski, president of Cork Supply, a leading global supplier of premium natural cork wine stoppers. "This news couldn't be better as it has restored raw material levels to normal after the atypical 2009 harvest sent raw cork inventories in some factories to almost zero," says Michalski. "Despite increased supply, raw material prices increased approximately 10 percent due largely to the pent up demand by some factories."
"In response to an increased demand for natural cork sales in South America, Europe and the United States, Cork Supply doubled the amount of raw materials sourced from the forest," said Michalski. Cork Supply is prepared for the increase in production after investing significantly in 2008 in the Montijo facility, well equipped with a seasoning and stabilization yard and state-of-the-art boiling system designed to improve quality and reduce the risk of any off aromas.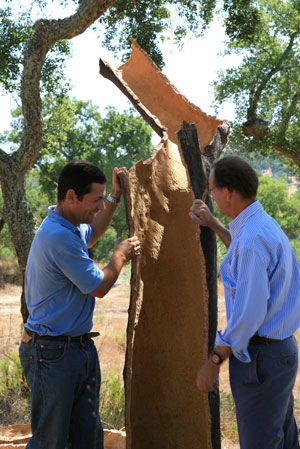 According to Frederico Mayer, director of Cork Supply's raw material department, "This year we increased our cork harvesting teams to reduce the amount of time it takes to get the freshly stripped cork wood from the forest to the seasoning yard. In most cases it only took 6 hours to get the freshly harvested, hand sorted cork wood from the forest to the seasoning yard."
Cork forests provide sustainable habitat for wildlife biodiversity, reduce carbon from the atmosphere, act as a barrier against desertification, and sustain the livelihood and culture of indigenous communities. Recognized worldwide by environmental and governmental organizations as playing a vital social, economic and environmental role, cork forests are protected by the Portuguese government, and their expansion is supported by World Wildlife Fund (WWF) preservation programs.

"With its low carbon footprint and the only closure that is 100 percent natural, renewable, biodegradable and recyclable, more cork forest owners are undergoing Forest Stewardship Council (FSC) certification," said Mayer. "In the last year, the number of FSC certified cork forests in Portugal have grown by 70 percent."
With companies spanning the globe, Cork Supply Group specializes in the production and distribution of premium quality winemaking and wine packaging products. Among the forested products Cork Supply Group manufactures and/or distributes are: natural, technical and champagne corks, French and American oak barrels and alternatives, and award-winning designer wine labels. As one of the first companies to be awarded FSC certification for their global cork production facilities in Portugal and a founding member of the WWF-GFTN (Global Forest Trade Network) Iberia, Cork Supply is committed to sustainable forest stewardship and responsible purchasing of forest products. For more information, please visit www.corksupply.com.