vinSUITE helps wineries connect online with a free chat tool
Posted on March 26, 2020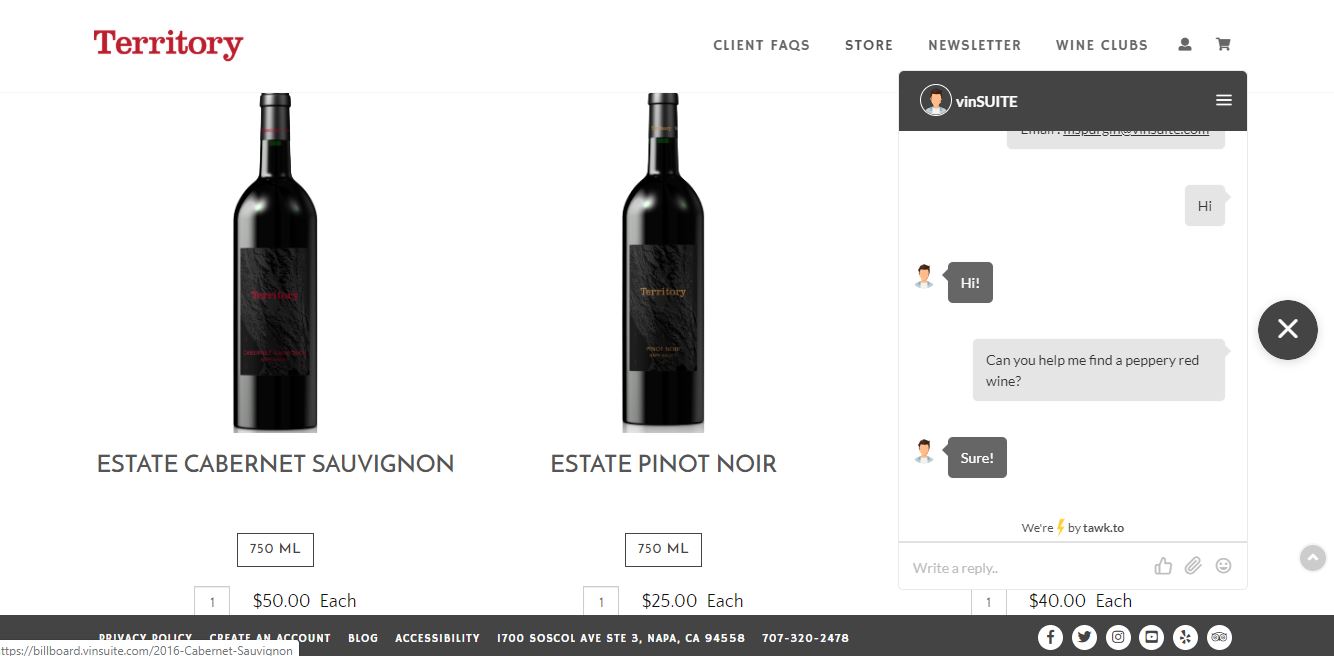 Napa, CA, March 26th, 2020 vinSUITE, the leading all-in-one DTC winery platform, has partnered with Tawk.to to provide wineries with a free live chat tool.
With tasting rooms being closed due to the ongoing COVID-19 outbreak, many wineries are looking for ways to replicate the intimacy of the tasting room experience online.
"We have been looking for new ways to help our clients during this difficult time. After talking to our clients, we determined that offering a live chat widget for wineries to place on their website would help them connect with online shoppers. What's great about the Tawk.to chat app is that it is easy-to-use and completely free" states Jason Curtis, vinSUITE General Manager.
Tawk.to provides everything a winery needs to manage messages and have a 98% customer satisfaction score. Setup is quick so you cant start chatting with your online visitors within minutes.
Jenny at MollyDooker Wines has been using Tawk.to, "I love having the chat widget. We just received an order from a customer yesterday so it's nice to have all channels of communication available to them… it's an important feature to have for eCommerce. Easy to use for customers and easy for us to view the message as well as live chats."
Businesses that use chat have seen a 10% increase in average order value, a 48% increase in revenue per chat hour, and a 40% conversion rate. vinSUITE's goal is to help wineries grow their eCommerce sales and create a high-touch experience online during these closures.
About vinSUITE:
vinSUITE, a Constellation Software company, was founded in 2003. As one of the largest winery solutions providers, vinSUITE is comprised of over 30 professionals, many with dozens of years in the industry. Our dynamic support and professional services teams set us apart from our competitors. And our dedicated account managers ensure our clients receive the utmost attention. Over the years, we've helped thousands of wineries grow their DTC business.