TerrAvion for Ag Retail: Irrigation System Sales and Management
Posted on January 28, 2020

High-quality agronomic data benefits everyone in the ag retail chain if it is applied deliberately and in an informed manner. In previous posts, we highlighted the benefits of TerrAvion aerial imagery for retailers looking to move high-quality seed, nutrients, and precision ag equipment. TerrAvion imagery products, particularly thermal imagery, can add value to and increase the efficiency of irrigation systems. NDVI imagery can help users evaluate the performance of variable rate irrigation prescriptions. This information, along with color and infrared imagery, can help irrigation system retailers be more successful in selling systems and serving satisfied customers.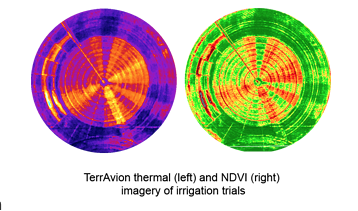 Irrigation trials
For growers who are on the fence about investing in a new irrigation system, TerrAvion thermal and NDVI imagery can provide convincing information that highlights the benefits a new system offers. For center pivot dealers, in particular, TerrAvion NDVI imagery can be used to show in-season crop responses to irrigation vs. non-irrigated crops. This information can be the evidence growers need to see to invest in an irrigation system. Using NDVI imagery to evaluate different rates of irrigation is also valuable information for progressive growers taking advantage of an increasingly popular irrigation practice, variable-rate irrigation applications.
Curious to see how many fields have irrigation issues? Read the TerrAvion thermography study.
Variable-rate irrigation
At a time of increasingly high costs for water, water conservation is becoming more and more of a focus for
growers. Variable-rate irrigation (VRI) systems allow growers to get the most out of their investment in water resources. VRI systems are becoming more widely used among growers running center pivot systems on their farms. VRI uses field prescriptions to apply precise amounts of water to match numerous variables within each field. Two common types of VRI with center pivots are speed VRI and zone VRI. Speed VRI applies varying rates of water to a field by adjusting the speed in which the pivot moves over the field. A field is segmented into multiple pie-like slices. The pivot will move slowly over slices that require more irrigation and vice versa. Zone VRI is more precise and involves individually controlled sprinkler banks, allowing a countless number of precision water application combinations. Individually controlled sprinklers can act on zones much smaller than pie-like slices of a field. With either method, current field variability data is required to identify management zones for VRI. Only in-season data, such as subscription aerial imagery, is capable of identifying variables that will dictate water needs and the return potential of specific areas in real-time. The high-detail and timely aspects of TerrAvion subscription imagery make it an ideal tool for both speed and zone VRI systems.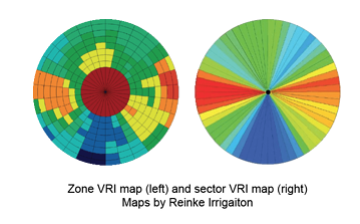 Irrigation system efficiency
Once irrigation systems are installed, they need to be monitored to ensure that they are operating correctly and efficiently. Many growers run their systems without investing much time to inspect them to make sure everything is working correctly. TerrAvion thermal imagery enables growers to quickly assess their irrigation systems right from their mobile device or computer, without even stepping foot in their field. Thermal imagery will indicate where nozzles are not functioning properly. Nozzles that are not applying water will leave a warm thermal streak along an otherwise cool thermal swath. Unintended pivot speed variations will appear as a spoking pattern. Thermal imagery can also reveal issues with water pressure, highlighting warm thermal circles that indicate the areas are being bypassed due to the water being forced through the sprinkler with too much force. TerrAvion thermal imagery is also a great tool to monitor VRI systems. The thermal imagery should mirror VRI prescriptions. If this is not the case, the VRI settings may need to be reconfigured.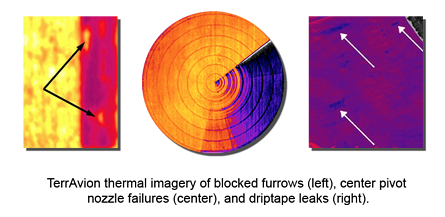 Website:
terravion.com