Allen Shoup to Receive Lifetime Achievement Award at Sunset Western Wine Awards
Posted on September 30, 2011

On September 30, Washington wine pioneer and Long Shadows Vintners founder Allen Shoup, will be honored with the Sunset Western Wine Awards' Lifetime Achievement Award. Mr. Shoup is the second recipient of this extraordinary honor, which Sunset began awarding in 2010 to a person in the wine industry who has contributed the majority of their life towards furthering the quality and reputation of wine in the West.
Shoup, along with the almost 50 awards finalists, will be celebrated on September 30th at the Sunset Western Wine Awards Gala on the historic Pismo Beach Pier in Pismo Beach, CA. The Western Wine Awards Gala is one of the most highly anticipated events at Sunset SAVOR the Central Coast, a world-class food and wine event that will be held throughout San Luis Obispo County, September 29 – October 2, 2011.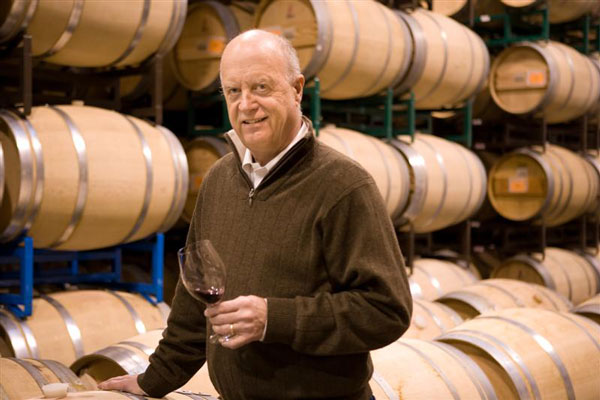 "Allen Shoup is considered by many as the 'Father of the Washington Wine Industry'," said Sara Schneider, Sunset wine editor. "Allen has been a critical force in growing the Washington wine industry, both by innovating, so that others could come behind and achieve greatness, and in serving as ambassador to the world."
Shoup spent 20 years building Chateau Ste. Michelle and its affiliate wineries, serving as the company's CEO for 17 of those years. He is currently managing partner of Long Shadows Vintners, a collection of ultra-premium Washington wineries in partnership with internationally acclaimed winemakers from the major wine regions of the world. He is also managing partner of The Benches at Wallula Gap, a spectacular 650-acre vineyard in Washington's Horse Heaven Hills, purchased by Shoup and a small investor group in 2008.
Shoup came to Chateau Ste. Michelle, then a small, unnoticed winery in Woodinville, Washington in 1980. While CEO, Shoup developed such well-known wines as Columbia Crest and Domaine Ste. Michelle and led Washington State from a 4,000 acre region of unsung vineyards into a world-renowned 30,000 acre Columbia Valley appellation. He also initiated joint ventures that brought Tuscany's Piero Antinori and Germany's famed Dr. Ernst Loosen to Washington. Out of these partnerships came Col Solare, a luxury wine styled in the Bordeaux tradition, and Eroica, a wine credited with sparking a Riesling "renaissance" in America.
The recipient of the Lifetime Achievement Award is one of five Western Wine Awards categories that are selected by the editors of Sunset magazine. The others include Sommelier of the Year; Winemaker of the Year; Best New Wine Bar of the Year; and Winery Tasting Room of the Year
All other Western Wine Awards are selected by Sunset's panel of professional judges, which includes Western wine writers, sommeliers, and wine instructors, who nominate wines they have tasted in the past year in a variety of categories. Categories include:
· Steal ($15 and under)
· Good Value ($16 to $25)
· Connoisseur ($26 to $40)
· Special Occasion ($41 to $60)
· Deep Pocket (everything over $60)
The judges select the winner in each of these categories during a blind tasting at Sunset's headquarters in Menlo Park, California. This year, more than 500 nominated wines were tasted before narrowing the field to the 32 finalists, which represent wine regions that span the 13 Western states, from New Mexico to Oregon, Washington to California. A full list of the finalists and judges can be found here.
Winners will be announced throughout the evening of September 30 as attendees enjoy locally grown fare paired with wines from the 32 finalists. The Western Wine Awards winners will be featured in the November issue of Sunset magazine, the premier guide to the West.
Sunset magazine has partnered with the San Luis Obispo County Visitors & Conference Bureau to launch Sunset SAVOR the Central Coast 2011. For more event information and tickets, visit www.SavorCentralCoast.com, or call 800?768?6653. Become a fan on Facebook: http://www.facebook.com/SavorCC, or follow us on Twitter (@SavorCC). Ticket proceeds and sponsorships are considered donations to the San Luis Obispo County Visitors & Convention Bureau, a 501 c 6 non?profit tourism organization promoting San Luis Obispo County.
About Sunset magazine
Sunset magazine is the premier guide to life in the West, covering the newest and best ideas in Western home design and landscaping, food and entertaining, and regional travel in 13 Western states. Sunset and www.sunset.com are part of the lifestyle group of magazines and websites published by the Time Inc. Lifestyle Group.