Alberto Antonini Joins Haywire Winery as Consulting Oenologist
Posted on August 20, 2010

The Haywire Winery team is pleased to announce that Alberto Antonini has agreed to act as consulting oenologist for British Columbia's newest winery.
Antonini toured the Okanagan Valley for the first time this past weekend, visiting vineyards (including the Switchback Vineyard and Hollenbach Vineyard) and working with owners Christine Coletta and Steve Lornie, and advisor David Scholefield to finalize winery construction plans and wine making protocols. Antonini was lured to the region by Scholefield, a long-time colleague and friend who has dreamed for years of finding the right place for Antonini to make wine in Canada.
"We are both delighted and humbled to have a person of Alberto's global stature working with us here in the Okanagan," Coletta said. "We were overawed at first. But hearing Alberto say 'it's essential to make wines that talk of the land, that have a sense of place and are more related to the people and their stories' was very reassuring and validating after decades of hearing David Scholefield talk about 'place not grape!' and 'wine is narrative!' We know that the Okanagan has a great story to tell, and we know that Alberto is the perfect person to help us tell it."
Alberto Antonini was born near Florence, Italy, and earned a doctorate degree in agricultural studies from the University of Florence. He later studied oenology at the Université de Bordeaux and UC Davis. His experience includes working as senior winemaker at Antinori and Frescobaldi in Tuscany, and at Robert Mondavi, Au Bon Climat and Qupé in California. He and partner Attilio Pagli founded the hugely influential consulting agency Gruppo Matura in 1996. Today, Antonini consults in many wine regions in Italy, Argentina, Chile, Uruguay, California, South Africa, Portugal, Spain and Australia. At home in Tuscany, he lives at Poggiotondo, his 50-hectare estate in the western hills of Chianti, with his wife and three children.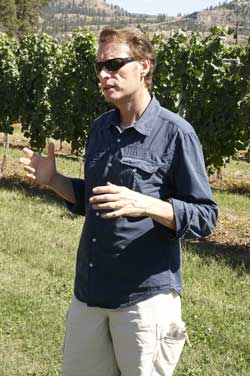 Haywire Winery is located in Summerland, BC, where owners Christine Coletta and Steve Lornie established Switchback Vineyard in 2006. Their inaugural release, a 2009 Pinot Gris, hits the Vancouver market in August 2010. David Scholefield is a key member of the Haywire team, acting as wine advisor and industry liaison. His vast experience and invaluable relationships in the international wine community bring a fresh perspective to wine making in the Okanagan Valley. For more information visit www.haywirewinery.com.
Region:
British Columbia