Marcia Monahan Joins Matanzas Creek Winery as Winemaker
Posted on August 11, 2010

Matanzas Creek Winery today announced Marcia Monahan will serve as winemaker. Originally from Chile, Monahan has 15 years of experience and is known as a proponent of sustainable agriculture and organic viticultural practices.
"Marcia's deeply-rooted respect for nature makes her very intuitive when it comes to winemaking," said Winemaster Graham Weerts, who oversees Matanzas Creek production. "She doesn't wrestle with the fruit. Instead, she tries to understand a vineyard's strengths and quirks and then create a wine that showcases those special characteristics. She will be a great asset to Matanzas Creek and take the wines to the next level."
Monahan's winemaking career began in 1995, at Viña Cousiño Macul in Santiago, Chile. She then joined Viña Canepa, also in Santiago, as assistant winemaker. In 1996, Monahan came to the United States as part of the Communicating for Agricultural and Exchange Program. Her first California winemaking job was as an enologist at Cardinale Winery in Napa Valley. From there, Monahan worked for Kendall-Jackson Winery in both Sonoma and Napa counties as assistant winemaker. In 2006, Monahan was named winemaker for Pelton House in Knights Valley.
"What I love about winemaking in California, particularly in Sonoma County, is the diversity," said Monahan, who lives in Knights Valley with her husband and two daughters. "Matanzas Creek embodies this, with its breathtaking Bennett Valley vineyards and exciting portfolio of wines. There is the sense that one foot is planted in tradition, while the other can feel its way and experiment."
Matanzas Creek Winery is located at 6097 Bennett Valley Road in Santa Rosa, about an hour north of San Francisco. The winery is known for its crisp sauvignon blancs, luxurious chardonnays and fruity, earthy merlots. To learn more, visit www.matanzascreek.com.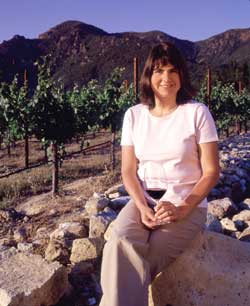 Region:
California, USA