Matchbook Wine Company Hires Brandon Reitz as Winemaker
Posted on August 08, 2018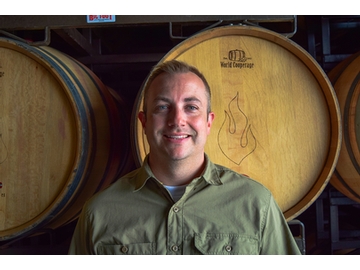 ZAMORA, CA August 8, 2018 - Matchbook Wine Company, a family owned vineyard and winery in the Dunnigan Hills, has announced that Brandon Reitz has joined the company as Winemaker.
Brandon comes to Matchbook with extensive experience in both large production management and small-lot winemaking. He began his wine career helping his father plant vines and produce wine at the family's D'Artagnan Vineyards and Winery in the Sierra foothills. He went on to work at acclaimed winemaker Mark Herold's eponymous winery as Assistant Winemaker. Brandon has spent the last five years in Napa at Bin to Bottle, most recently as Assistant Director of Winemaking.
It was at Bin to Bottle where Brandon worked with Steve Matthiasson and the fruit Steve sourced from the Dunnigan Hills. "I always knew that fine wines could be made outside of Napa if the vines, climate, soil and people were right," says Brandon. "When the position at Matchbook became available I jumped in with both feet."
Brandon joins the Matchbook team working alongside Head Winemaker Dan Cederquist at the Zamora winery. "Brandon's experience will help immensely with our winery's continued growth and recent run of terrific accolades," says Dan.
Brandon resides in Sacramento with his wife and young son.
About the Matchbook family:
East of Napa, Left of Center: The Giguiere family embodies Dunnigan Hills winemaking. In 1981, they pioneered grape growing in this region when they planted their very first vineyard. By 1993, they had succeeded in making the Dunnigan Hills a nationally recognized American appellation. Today, Matchbook Wine Company produces over 15 wines showcasing the varietals that perform best in Yolo County's warm, dry climate.

Job Function:
Winemaking