Stephen James Cary, 5/6/46 - 4/28/18
Posted on April 30, 2018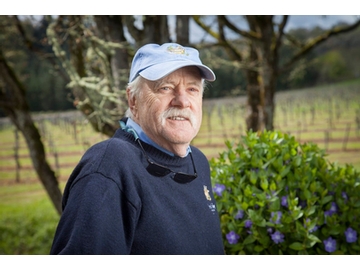 Stephen Cary, longtime winemaker at Yamhill Valley Vineyards, passed away peacefully on Saturday, April 28, 2018 in Portland, Oregon. He was 71 years old.
Stephen began his wine career selling Burgundy wines for Henny Hinsdale, and then moved on to start his own distributor business, Cary Oregon Wines. He was one of the original coordinators of the Steamboat Pinot Noir Conference, an organization developed to bring together Pinot Noir producers from California and Oregon with the goal of making great Pinot Noir. Conversations were frank, open and constructive, and the conference proved a success. Over the years it has grown to include Pinot Noir producers from all over the world and is now in its 38th year. In 1984, Yamhill Valley Vineyards' 1983 Pinot Noir was presented at the Steamboat Conference, and Cary Oregon Wines began representing the winery in late 1984.
Stephen was passionate about Pinot Noir, Oregon Pinot Noir in particular, and was frustrated by the perceived lack of respect for the wines in the wider market. He suggested a blind comparative tasting between 1983 vintages from Burgundy, France, and Oregon, U.S.A. This tasting, the Oregon-Burgundy Challenge, was conducted at the International Wine Center in New York City, in September, 1985. The wine judges were asked to identify the origin of each wine and to select their three favorites. As a group, the 25 judges could not correctly identify the origin of at least half of the wines. Oregon wines placed first, second, third and tied for fourth and fifth, with Yamhill Valley Vineyards placing first. This event, and a second competition repeating the first event two years later, in which Oregon again placed first, second and tied for third, helped Oregon wines earn respect globally.
In 1991, Stephen began as winemaker at Yamhill Valley Vineyards, a position that he held until 2016. Over his thirty three years as an associate of the winery, he dedicated his time to listening to the vines, and crafting distinctive wines which reflected the terroir and voice of the vineyards, in what he considered a very special place. During his retirement, as he took on the role of winemaker emeritus, he continued to assist and advise the winemaking team; in 2017, his last harvest, he was in his regular position on the forklift, coordinating the arrival of the fruit on the crush pad, clearly energized by being part of another vintage.
Stephen's fierce advocacy of Pinot Noir serves to support and sustain us all. We feel privileged to have known him, and to have benefited from his encyclopedic knowledge of winemaking, of history, geography, geology, photography, the art of fly tying and how to tell a dirty joke. He was a true giant in the industry. By standing on the shoulders of this giant, and following our passion for wine, and for life, we can honor the man, and his legacy.
Region:
Oregon
Job Function:
Winemaking