The Family Business Passes from One Generation to the Next at Stewart Cellars
Posted on March 01, 2017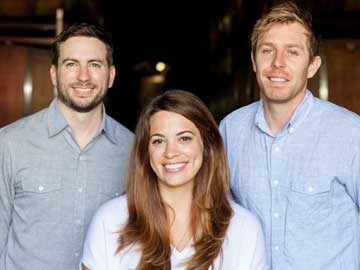 Yountville, CA, March 1, 2017 – Siblings James and Caroline Stewart, the second generation of the Stewart family, and Blair Guthrie, husband of Caroline, are now managing Stewart Cellars which was founded in 2000 by their father, Michael Stewart. Co-proprietors, James and Caroline, and winemaker, Blair, oversee all aspects of the winery's operations from sales and marketing, to finance, to vineyard management, winemaking, and managing their staff.

"We are excited to be the next generation of Stewarts taking on the family business. We will continue to seek out the best vineyards and maintain long-established grower relationships, as well as forge new ones. At the end of the day, we want to make wines for everyone to enjoy and feel confident knowing that our family name is a name they can count on," said James Stewart, co-proprietor.

This spring, Stewart Cellars is announcing the addition of two new wines to their family portfolio, a 2016 Sauvignon Blanc, Napa Valley and a 2016 Rosé, Sonoma Mountain. Michael Stewart first began making a Stewart Cellars Napa Valley Cabernet Sauvignon. James, Caroline and Blair have grown the collection to include Chardonnay, Pinot Noir, Merlot, and now Sauvignon Blanc and Rosé.

"I love getting my hands dirty and checking on the vineyards and the development of the fruit that we use to make Stewart Cellars wines," said Blair Guthrie, winemaker. "I consider the relationships we have with our growers to be collaborative, with the same goal in mind—to grow the best fruit possible so that our family can make the best wines possible. Having access to these vineyards and working with our growers is an honor."

Born in Texas, James Stewart left behind a career in television to join the family business. As his father's right hand man, he helped sell the earliest vintages of Stewart Cellars Cabernet. He was also instrumental in making the family dream of having a Napa Valley home for their wines a reality. The Stewarts welcomed their first guests to their Yountville tasting room in August 2016. As co-proprietor, James focuses much of his energy envisioning and planning the future of the family business, meanwhile sharing the responsibility of day-to-day operations with Caroline and Blair.

Caroline Stewart Guthrie, co-proprietor, spent her college days studying financial economics. While home from school, she sat in on a meeting with her brother, James, her father, Michael, and Consulting Winemaker, Paul Hobbs. This serendipitous meeting lead to a harvest at Hobbs's winery in Argentina and another four harvests within two years. At Stewart Cellars, she straddles the line between administrative work and winemaking, creating the perfect balance with James, who focuses on the business side of things, and Blair, who focuses on the winemaking.

Winemaker and vineyard manager, Blair Guthrie, was born and raised in New Zealand, surrounded by the vineyards of Christchurch. Despite growing up amongst the vines, he studied graphic design in college. It was at the prompting of his mother that Blair began a post graduate degree in Oenology and Viticulture and found his true calling. Blair spends much of his time in search of the best vineyards in Napa and Sonoma counties; maintaining the longstanding relationships with the growers that Michael started; and ensuring the quality of the fruit is up to par with the family's needs.

Together, James and Caroline Stewart and Blair Guthrie carry on Michael Stewart's vision of crafting the finest wines possible— wines they are proud to stand behind, and wines that reflect the family tradition of quality, heritage and commitment.

Stewart Cellars is located at 6752 Washington Street in Yountville, CA. Private tastings can be organized by phone at (707) 963-9160, via email at reservations@stewartcellars.com or online at www.stewartcellars.com.
Winter hours are as follows:
Tasting Hall: 11 a.m. - 6 p.m.
NOMAD Heritage Library: 11 a.m. - 6 p.m.
Gather Café by Stewart Cellars: 8 a.m. - 3 p.m. (Wednesday – Sunday)

Spring, 2017 Stewart Cellars White & Rosé Wine Releases
2016 Sauvignon Blanc, Napa Valley // SRP: $25
2016 Rosé, Sonoma Mountain // SRP $28
2015 Chardonnay, Sonoma Mountain // SRP $40
-------
Full Spring New Release Wine Technical Sheets: http://bit.ly/2lorW0W

About Stewart Cellars
Founded in 2000, Stewart Cellars is the collaborative project of founder Michael Stewart, his son James Stewart, daughter Caroline Stewart Guthrie, and son-in-law Blair Guthrie. Together, the family oversees all aspects of the winery's operations: James, an artist who left behind a burgeoning career in television and music for hands-on work in sales, marketing and distribution; Caroline, who leads the day to day operations along with each wine's development; and Blair, the winemaker who works closely alongside acclaimed consulting winemaker Paul Hobbs to capture the singular site signatures of Stewart's premier vineyard sources. Stewart Cellars produces five wines including their flagship NOMAD Beckstoffer Las Piedras Cabernet Sauvignon, Stewart Sonoma Mountain Chardonnay, Stewart Sonoma Coast Pinot Noir, Stewart Napa Valley Merlot, and the Stewart Napa Valley Cabernet Sauvignon. Their new tasting room is located at 6752 Washington Street, Yountville, CA. For more information, please visit stewartcellars.com, on Facebook, Twitter and Instagram, @StewartCellars.
Region:
Napa & Sonoma