J. Lohr Vineyards & Wines Names Kristen Barnhisel Winemaker, White Wine
Posted on July 08, 2015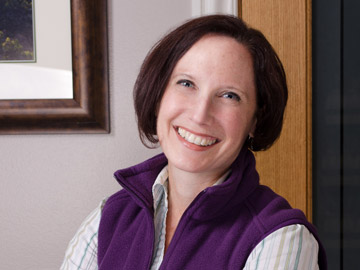 San Jose, Calif. – July 8, 2015– J. Lohr Vineyards & Wines (www.jlohr.com) today named Kristen Barnhisel winemaker, white wine, joining a veteran winemaking team that includes Red Winemaker Steve Peck and longtime Director of Winemaking, President/COO Jeff Meier, who will continue to ensure the stylistic continuity of all J. Lohr wines.
Raised in Santa Rosa to a microbiologist mother who worked for Simi Winery, and a father who made wine in the family home, Barnhisel has spent over two decades earning a reputation for her winemaking acumen and her versatility working with an array of grape varieties. After studying biology and Italian literature at UC San Diego, Barnhisel became one of the first women, and first Americans, to work harvest season for Ruffino in Italy. Building on this experience, Barnhisel went on to earn a master's degree in enology from UC Davis, before joining Washington State's Columbia Crest as enologist. Following positions as assistant winemaker at Jordan Vineyard & Winery and Belvedere Winery, Barnhisel joined Handley Cellars in Anderson Valley, Mendocino County in 2004, where she was co-winemaker with Milla Handley until 2012. Most recently, Barnhisel was the quality control manager at Inglenook, where she was charged with ensuring wine quality of the Rubicon, Inglenook's flagship Cabernet Sauvignon, and the Blancaneaux, the winery's top white wine. In addition to her new role as winemaker, white wine, for J. Lohr, Barnhisel serves as a director for the American Society of Viticulture and Enology.
"Kristen is an accomplished winemaker who is incredibly well-versed in the technical aspects of winegrowing and fermentation science. She also has knowledge and experience across the varietal spectrum, from Burgundian and Bordeaux varieties to sparkling wine and Alsatian whites, to name a few," said Director of Winemaking, President/COO Jeff Meier. "Her knowledge of comparative appellations from time spent in Sonoma and Mendocino counties, not to mention appellations in Washington, South Africa, and Italy, brings critical perspective to J. Lohr."
"As our family business continues to evolve into the second generation of leadership, we look for people whose values and passions complement our own," said J. Lohr Vineyards & Wines Chairman and CEO Steve Lohr. "Kristen is one of these talented individuals. She brings an experienced palate, along with strong organizational and management skills to J. Lohr. We're thrilled to welcome Kristen to our winemaking team."
Barnhisel will work closely with Meier to guide the winery's white wine portfolio in the company's new white winemaking facility out of Greenfield, California, nestled among J. Lohr's 1,300 acres of sustainably farmed Monterey County estate vineyards. In his leadership role, Meier will continue to oversee winemaking quality and innovation.
About J. Lohr Vineyards & Wines
Founded four decades ago by Jerry Lohr and still family-owned and operated today, J. Lohr Vineyards & Wines crafts a full line of internationally recognized wines from its 3,700 acres of sustainably-farmed, estate vineyards in Paso Robles, Monterey County's Arroyo Seco and Santa Lucia Highlands appellations, and St. Helena in the Napa Valley. Offering an expressive range of styles, J. Lohr produces four tiers of signature wines showcasing its estate grapes – J. Lohr Estates, J. Lohr Vineyard Series, J. Lohr Cuvée Series and J. Lohr Gesture.
Region:
Central Coast
Job Function:
Winemaking