B.R. Cohn Winery Announces Family Succession
Posted on January 07, 2014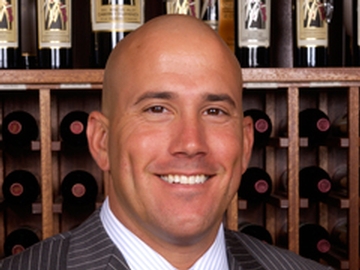 B.R. Cohn Winery owner and founder Bruce Cohn announced today that his eldest son, Daniel Cohn, has been appointed chief executive officer, allowing the 40-year-old family winery to make the generational change necessary for the future. Dan Cohn, a veteran wine industry executive, will share ownership of the Sonoma Valley estate winery with his father.
Founded by Bruce Cohn in 1984, B.R. Cohn Winery is renowned for the estate-grown wines from its Olive Hill Vineyard in Sonoma Valley, for its award-winning olive oils, vinegars and other specialty foods, and for its Charity Fall Music Festival. In stepping back from the winery, Bruce Cohn intends to focus his energy on the management of Grammy Award-winning band The Doobie Brothers and on the production of the B.R. Cohn Charity Fall Music Festival, the annual fall music event at the winery, which has raised more than $6 million for charities since 1987.
As the new CEO, Dan Cohn will concentrate on growing the winery's national wholesale and direct-to-consumer businesses and on renewing focus on B.R. Cohn's Olive Hill estate and its ultra-premium wines. Dan's background has deep connections in the fine wine business. He worked B.R. Cohn's first harvest as young cellar assistant and learned winemaking from the winery's highly-regarded winemakers over the years. He went on to a successful career as a wine distributor sales executive and has been senior vice president and national sales manager for B.R. Cohn for the past 12 years.
"This transition fulfills a long-term objective of family succession," noted Bruce Cohn. "Dan has distinguished himself in all aspects of the wine business and winery management. He is a dynamic leader who understands fine wine, and he is uniquely suited to carry on this family business as CEO. I'm very excited about our future and about the energy, ideas and management skills Dan brings to B.R. Cohn Winery."
"I'm dedicated to building on my father's success with B.R. Cohn Winery," said Dan Cohn. "We greatly value our grower and wholesale partners and the dedication of our employees. I want to support that foundation and continue to make great wines. Our Olive Hill estate is one of California's premier vineyards and offers an unmatched visitor experience; I'm going to build on that legacy."
B.R. Cohn Winery is located at 15000 Sonoma Highway 12 in Glen Ellen, and its wines are nationally distributed. The Sonoma Valley tasting room is open daily from 10 a.m. to 5 p.m. Additional information is available at www.brcohn.com.
About B.R. Cohn Winery
Founded in 1984 by Bruce Cohn, the estate winery is known for its critically acclaimed, world-class, ultra-premium cabernet sauvignon, chardonnay, merlot, pinot noir and award winning gourmet estate olive oils, vinegars and gourmet specialty food products. The tasting is a top destination for visitors and hosts numerous unique experiences throughout the year, including the B.R. Cohn Charity Fall Music Festival, which marks its 28th anniversary in 2014 and has raised more than $6 million for local charities.

Region:
Napa & Sonoma
Job Function:
President/Owner/GM