Adelsheim Vineyard Appoints Geoffrey Hall Grower Relations Liaison
Posted on June 23, 2011

Adelsheim Vineyard is pleased to announce the appointment of Geoffrey Hall as Grower Relations Liaison.
Hall's responsibilities include fostering all aspects of our relationships with Adelsheim's contracted fruit growers. He will be an ambassador of the company as he visits current and potential growers in the field, suggests viticultural practices that could improve quality, coordinates harvest and delivery logistics, and recognizes our grower's accomplishments.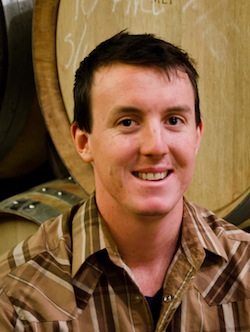 A native of Boise, Idaho, Hall earned his Masters in Horticulture with an emphasis in Viticulture from Washington State University in 2010 and a Bachelor of Science in Biology from the University of Idaho in 2007. Most recently, he worked at Domaine A Winery in Tasmania, Australia for the 2011 vintage.
"At Adelsheim, we are continuing to develop growth in our upper tier wines and a big part of that growth has come from our contracted growers," said viticulturist and vineyard manager Chad Vargas. "In order to tend to these important relationships properly, we felt it necessary to create a grower relation liaison position. During our national search, we were fortunate enough to cross paths with Geoff. He possesses both the viticultural savvy and great personal skills that we will rely on to make our growers confident that they are selling to the right house."

"I am very excited to join such a passionate team and represent the exceptional wines of Adelsheim Vineyard," declares Hall. "I look forward to the opportunity to continue the incredible dedication to high quality vineyards and wine."

About Adelsheim
Established in 1971, the Adelsheim Vineyard estate has grown to include twelve exceptional vineyard sites in the Willamette Valley, totaling 221 acres. Our recently expanded winery allows for a production of 40,000 cases. Oregon wine industry founder, David Adelsheim, leads a current generation of passionate staff devoted to producing and selling wines of ever-higher quality with each growing season. For more information, please visit www.adelsheim.com.
Region:
Oregon
Job Function:
Vineyard Management/Viticulture