Wisconsin Grape Growers Association Hires Becky Rochester as Marketing Coordinator
Posted on February 15, 2011

The Wisconsin Grape Growers Association (WGGA) has secured the services of Becky Rochester as their Grape Marketing Coordinator. Ms. Rochester will work to facilitate the growing and sale of Wisconsin cold-climate grapes to wineries located across the state as well as working to increase the sale of these Wisconsin grown wines to consumers.
Ms. Rochester has extensive experience in the grape and wine industry. She was employed by Bargetto Winery of Soquel, California as their Direct Marketing Manager. She's also worked as a vintage cellar hand for wineries located in Marlborough, New Zealand; Victoria and Tasmania, Australia; and California. Most recently she was the Direct Sales Manager for Willamette Valley Vineyards in Turner, Oregon.
"Becky possesses all the necessary components that this position requires, from growing grapes to making wines to in turn marketing those wines," says Anna Maenner, WGGA Executive Director. "She was exactly the right person for the job."
Ms. Rochester began her duties on January 2nd as she participated in the Wisconsin Fresh Fruit & Vegetable Conference where she began getting to know both the growers and the winery owners. Becky's Wisconsin roots run deep as the Rochester Family planted R Little Vineyard in Stoddard, Wisconsin in 2005. Today they have 3 1/2 acres of cold climate vines and sell to a couple Wisconsin wineries.
Becky's position is being funded through a Specialty Crops Grant to the Wisconsin Grape Growers Association through the Wisconsin Department of Agriculture, Trade & Consumer Protection. To find out more about the Wisconsin Grape Growers Association, visit www.wigrapes.org. You can reach Becky via email at becky@wigrapes.org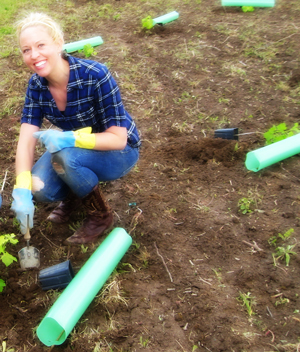 About Wisconsin Grape Growers Association (WGGA)
The Wisconsin Grape Growers Association is focused on educating member hobbyists, vineyards and associated companies on the best practices of growing quality grapes in the cold climate of Wisconsin.
According to the WGGA mission statement, "The Wisconsin Grape Growers Association is a non-profit agricultural organization dedicated to uniting and educating growers, assisting with research and promoting and protecting the art, science and commerce of viticulture in Wisconsin."

Region:
Wisconsin