Former CAWG Chair Bennett Drake Appointed to State Food & Ag Board
Posted on July 28, 2010

Former California Association of Winegrape Growers (CAWG) Board Chair Bennett Drake of Temecula has been appointed to the California State Board of Food and Agriculture by Governor Arnold Schwarzenegger.

"Ben is a forward thinking leader who has provided consistent leadership for the winegrape industry," said John Aguirre, president of CAWG. "He's an ideal choice for the board. He brings the perspective of a grape grower, but I know he will put his heart into working for the benefit of all of California agriculture."

The Board is comprised of fifteen members who are appointed by the Governor. Members are carefully selected to represent a broad range of agricultural commodities, a variety of geographic regions and both the University of California and California State University academic systems.

The Board is responsible for advising the Governor and the Secretary of CDFA on agricultural issues and consumer needs. The Board often acts as a host to bring together local, state and federal government officials, agricultural representatives and citizens to discuss current issues of concern to California agriculture.

Drake has been president for Drake Enterprises since 1980 and served on the CAWG Board for nine years, two of those as chairman. Previously, Drake worked as manager of grower relations for McMillan Farm Management from 1976 to 1980 and manager of agricultural development at Kaiser Atena from 1973 to 1976. Currently, he is a member of the Pierce's Disease and Glassy-Winged Sharpshooter Board, Rancho California Water District Board, California Sustainable Wine Grape Alliance, California Wine Grape Growers Foundation and Murrieta Temecula Group.

CAWG represents the growers of more than 60 percent of the gross grape tonnage crushed for wine and concentrate in California. The statewide association provides industry leadership to advocate for public policies, research and education programs, sustainable farming practices and trade positions to enhance the business of growing California winegrapes. For more information about CAWG, visit their website at www.cawg.org.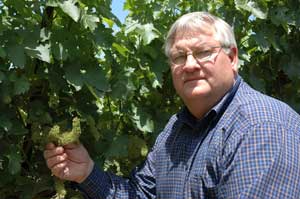 Region:
California, USA