TGIC Importers, Inc. Appoints Giovanni Estrada as New Jersey/Pennsylvania Regional Manager
Posted on May 17, 2010

Giovanni Estrada has been appointed as New Jersey/Pennsylvania Region Manager At TGIC Importers, Inc. Estrada has lived in the New Jersey Merchantville/Cherry Hill areas for the past 18 years. He was State Manager for Kobrand from 2008 – 2010 operating in the New Jersey and Pennsylvania locales. Prior to that Estrada was Market Manager for Future Brands, 2004-2008, covering key on- and off-premise accounts in South Jersey.
It was back in 1992 that Estrada began working in the liquor industry for Merchants FA Wines and Liquor Distributors which later became a part of Allied Beverage Group. He began as a sales representative and by the time he left there in 2004 he was Field Sales Manager.
While working at Allied Beverage he attended and obtained a Sommelier Certification from The American Sommelier Association (ASA).
Now aboard TGIC for the first time, Estrada says "It's very exciting to be with the pioneering company that introduced high quality Chilean and Argentinean wines to the American market.
"One of my biggest challenges will be to compete and excel in a market with an over-abundance of wines from all over the world."
"However," he interjects, "TGIC has a proven record of carrying an extensive range of qualities of wines, therefore making it easier for the wine drinker, from the novice to the expert, to be able to get a great bottle of wine for a decent price point."
Estrada concludes "The wine industry has faced great challenges in our economy for the past year, TGIC has overcome the challenges by being consistent with quality and pricing. The company is revered for how committed it is to being supportive of its distributors, partners and retailers. I'm thrilled to be a part of that."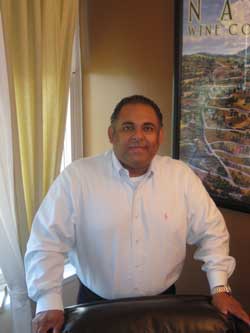 Region:
Northeast, USA
Job Function:
Sales/Marketing