Rutherford Wine Company Promotes Jay Turnipseed And Appoints New Winemaker
Posted on July 07, 2021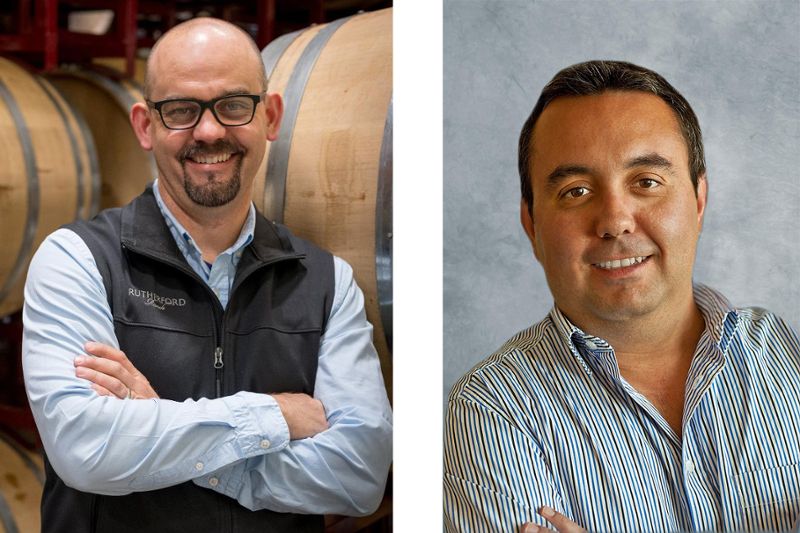 Napa, California, July 1, 2021 – Rutherford Wine Company is excited to announce to promotion of Jay Turnipseed to Vice President of Winemaking and Operations and the appointment of Marc Zaccaria as Winemaker. Both gentlemen assumed their new roles in late June.
Turnipseed joined Rutherford Wine Company in 2017 as Director of Winemaking and led initiatives to drive positive change within the portfolio. "Jay joining the team in 2017 was a key turning point for our wine," said Morgan Zaninovich, General Manager and Owner of Rutherford Wine Company. "His vision and leadership have helped drive our winemaking to the next level. His new role will allow him to develop longer term goals for the company and continue shaping our portfolio through quality and innovation." Since joining, Turnipseed and his team have received multiple 90+ point scores throughout the portfolio of wines from leading publications.
Zaccaria joins Rutherford Wine Company with a strong background in California winemaking, with a focus on Napa and Sonoma. He was most recently the winemaker for Treasury Wine Estate's Etude Wines. He gained experience with other brands such as Chateau St. Jean, Sledgehammer and Run Riot and has international experience with Wolf Blass in Barossa Valley. Zaccaria holds a Bachelor of Science in Wine and Viticulture/Enology from California Polytechnic State University, San Luis Obispo.
"Marc is an extremely talented and knowledgeable winemaker that brings more than 15 years of experience to the team," said Turnipseed. "I look forward to working with him closely to continue the work we have started and have complete faith that he along with the rest of our winemaking team will do great things."
"I am excited to be joining a family-owned brand with such a rich legacy of farming distinguished vineyards here in Rutherford, Napa Valley, and the best winegrowing regions of California. I look forward to working closely with the winemaking team to continue to craft bold wines with a profound sense of place," remarked Zaccaria.
About Rutherford Wine Company
Family owned and managed for three generations; Rutherford Wine Company is dedicated to the art of crafting fine wine. Based in Napa Valley's renowned Rutherford appellation, their extensive portfolio includes Rutherford Ranch, Scott Family Estate, Predator Wines, Rhiannon Red Wine, Lander-Jenkins, Silver Buckle, Four Virtues Wines and Round Hill California wines. The range of brands showcases the diversity of California's many appellations and the unique personality of each site. These acclaimed wines come from a family who is committed to sustainability, both at the winery and in the vineyard. The winery is certified as California Sustainable Winegrowing (CCSW) and the estate vineyards are a combination of sustainable, organic and fish friendly.
For more information visit www.rutherfordwine.com
Region:
Napa & Sonoma
Job Function:
Winemaking, President/Owner/GM