In Loving Memory of Napa Valley Community Leader and Grape Grower, Steve Moulds
Posted on June 11, 2021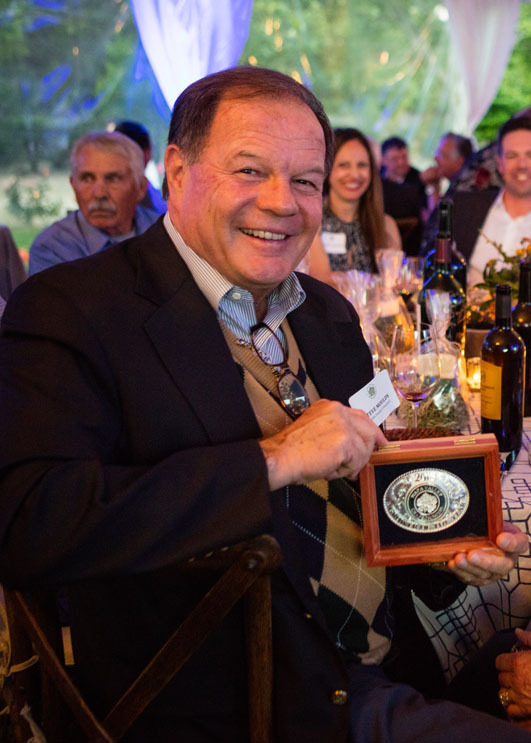 With a very heavy heart, Napa Valley Grapegrowers (NVG) and the Farmworker Foundation (FWF) share the news of the passing of Steve Moulds.
Steve's legacy is far-reaching. He is known for his generosity of spirit and the hours and years he dedicated to community volunteerism and service to others including as a Director and President of the Napa Valley Grapegrowers for over 9 years and as the founding President of the Napa Valley Farmworker Foundation (2011 – 2021).
Steve and his wife, Betsy, arrived in Napa Valley in 2000, having just moved to their beautiful property in the Oak Knoll District, Moulds Family Vineyard. Since then, the Moulds family has become deeply embedded in the fabric of the Valley, where they have forged lasting friendships along the way.
In the words of Steve's friend and fellow NVG Director, Walt Brooks, "Generosity, adventure, and the search for excellence were the hallmarks of Steve's life and his family was the core. Some people seek fame and glory for themselves, which is fleeting, Steve was always focused on things that make a difference and things that last, and he has created a legacy for us all to share."
Steve made a difference wherever he gave his time; never hesitating to step forward and immerse himself in Napa County civic, philanthropic, political, and professional endeavors. He constantly sought ways to uplift and create opportunities for farmworker families working for a better life and a better world. The growth and continued success of NVG and FWF are a direct testament to his leadership, vision, and dedication to the missions each serves. His unwavering support of our work to preserve agriculture and provide education and opportunity to Napa's farmworker community was unparalleled, and his legacy will live on through both organizations.
He also served on the Napa County Housing Commission; FFA St Helena High School; Men Who Give a Damn; Festival Napa Valley; and he could always be found with his paddle raised at the annual Napa County Livestock Auction, supporting the children in the 4H, FFA, and Ag for Youth programs. For many years, he purchased several animals and donated the meat to the Napa County Farmworker Housing Centers.
Steve was born in Chicago and was raised in Palo Alto and Los Altos, California. He began his farming career in the early 1970s, on a ranch in Morgan Hill, raising animals to sell at auction. During that time, he served in the Department of Social Services in Gilroy, helping Spanish-speaking migrant workers gain skills and remove barriers to employment.
In 1976, Steve became an early member of commercial real estate firm Cornish & Carey (C&C). He was a go-to broker for the then-emerging tech market and was once named Silicon Valley Broker of the Year. Steve helped C&C progress from a Palo Alto-only company, to the leader in the tech market from a representation standpoint in less than a decade.
His time in Orocuina, Honduras with Peace Corps in 1964 played a central role in defining Steve's relationship to civic duty. He returned to Orocuina in 1998 after Hurricane Mitch and dedicated the next twenty-three years to working with this rural community to improve their quality of life. Beyond disaster relief, Steve took on projects focused on housing, education, infrastructure, economic development, and sustainable agriculture.
In his final days, Steve was surrounded by the love and well wishes of his family and friends. NVG and the Farmworker Foundation join them in celebrating and honoring his adventurous and generous life and legacy.
One of Steve's legacy goals was to further strengthen NVG and the FWF's presence in Napa Valley by building a permanent home for both organizations. Donations made in his honor will support this dream and make the Napa Valley Grapegrowers & Napa Valley Farmworker Foundation offices in Oakville, CA a reality. More information can be found here.
Region:
Napa & Sonoma
Job Function:
President/Owner/GM