2 Lads Winery Announces New Winemaker Thomas Houseman
Posted on August 25, 2020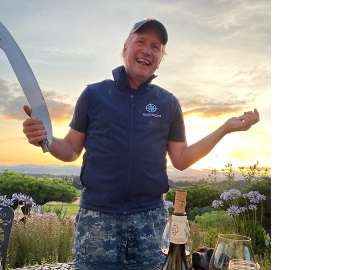 TRAVERSE CITY, MI – 2 Lads Winery is pleased to announce the appointment of Thomas Houseman as winemaker.
Though he started his professional life as a modern dancer in New York City, Houseman is best known as one of the most respected winemakers in Oregon's Willamette Valley. For the past fourteen years he has held the position of head winemaker at Anne Amie Vineyards, one of Oregon's iconic wine brands. His wines were frequently featured and highly rated in national publications including Wine Spectator, Wine Enthusiast, and Robert Parker's Wine Advocate.
"Thomas Houseman is one of the highest profile winemakers to join the growing movement of world class wines being made in northern Michigan. He's been creating superb Oregon wines for a long time that favor balance and highlight the identity of unique sites in the Willamette Valley," said Chris Baldyga, co-founder and CEO of 2 Lads Winery. "Given our area's cool climate and variable growing seasons, being flexible with your processes, creative in showcasing the vineyards, and having a sense of humorare all traits that serve Michigan winemakers well. Thomas has all of that."
Houseman also cited his extensive experience working in cool climate regions as a key reason for making the move to 2 Lads. "For almost all my winemaking career, I've followed the 45th parallel around the world – from New Zealand to Oregon and now to Traverse City. 2 Lads has a stunning facility, a great brand identity, and a history of great winemaking; I feel my experience as a cool climate winemaker will help me guide these wines to the next level." He adds, "I'm also excited about joining the tight-knit winemaking community that already exists in northern Michigan. They work together, they share information. Collaboration and community are really important to me."
Houseman arrives just prior to the start of the 2020 harvest season; expect the first wines produced under his guidance to be released in spring 2021.
Located on Traverse City's Old Mission Peninsula, 2 Lads Winery was established in 2006 with the mission of elevating the production of cool climate red wines and sparkling wine in northern Michigan. Over the past 14 years the winery has established itself as one of Michigan's premier producers of Cabernet Franc, Pinot Noir, and traditional method sparkling wines.
Region:
Michigan
Job Function:
Winemaking