Winemaker Peter Bell wins Finger Lakes Wine Industry Award
Posted on March 05, 2020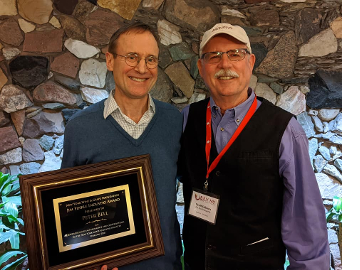 The New York Wine & Grape Foundation presented the 2020 Jim Finkle Industry Award to Peter Bell, Fox Run Winemaker, honoring his long-standing commitment to the Finger Lakes and New York wine industry on February 26, 2020.
The Industry Award, named for Jim Finkle, who served as Vice President of External Affairs for Constellation Brands, honors those who believe in 'collaboration at all levels.' This belief is a central value at Fox Run Vineyards.
"We open ourselves up to a higher level of professional growth and advancement when we work together," said Peter Bell, Fox Run winemaker. "By collaborating, we are able to truly celebrate the region."
To create a culture of advancement, Bell hosts regular tasting groups for winemakers in the Finger Lakes region. Every two weeks winemakers get together and blind taste each other's wines, as well as wine from various regions around the world in order to analyze and improve their own work.
"Collaboration is integral to the way we do business at Fox Run," said Scott Osborn, President and Co-Owner of Fox Run Vineyards. "We encourage Peter to help wherever he can, and he does a phenomenal job. As business owners we're appreciative that collaboration is such a big part of the Finger Lakes wine industry, and that Peter plays a key role in that."
Bell is also one of the founding winemakers of Tierce Dry Riesling, a collaborative project between Fox Run Vineyards, Anthony Road Wine Company, and Red Newt Wine Cellars. Winemakers from these Seneca Lake wineries come together with wine made from their distinctive vineyards and blend them together to create one Riesling.
Bell has been the winemaker at Fox Run Vineyards for 25 years and serves as a consultant and mentor to dozens of winemakers, some of which are highly regarded in their own right. Bell studied enology in Australia and made wine in New Zealand before landing in the Finger Lakes. He was the winemaker at Dr. Konstantin Frank's Vinifera Wine Cellars for five years before joining Fox Run in 1995, he was also a guest winemaker at the University of Adelaide.
"Peter is arguably the single most influential winemaker in the Finger Lakes ever," said Julie Purpura Hosbach, the Education and Member Services Manager at New York Wine & Grape Foundation. "Peter's ability to bring like minds together and his willingness to mentor countless individuals has greatly accelerated the advancement of quality in the region."
Bell said that he could not have achieved his success without the prowess of Vineyard Manager John Kaiser, who has worked the land at Fox Run since 1984, and without the contributions of Assistant Winemaker Lindsey VanKeuren, a Penn Yan native who got her start at Fox Run in 2012. He also hastens to give credit to Co-Owners Scott and Ruth Osborn. "When I was hired here, Co-Owner Scott Osborn was explicit about his vision that all Finger Lakes wineries should work together to create a regional brand."
Fox Run Vineyards strives to make wine approachable. We offer in-depth tours of the vineyard and winemaking facility, a friendly and knowledgeable staff, and a Café that features a fully house-made menu with produce from our garden. Fox Run Vineyards is family-owned and has been making estate wines since 1989. Fox Run Vineyards overlooks Seneca Lake in the heart of New York's Finger Lakes, America's premier cool-climate wine region. Regularly recognized in national wine publications, Fox Run was voted Third Best Winery Restaurant and Seventh Best Tasting Room in USA Today's National 10 Best Competition. Visit us online at foxrunvineyards.com.
Region:
New York
Job Function:
Winemaking