Raley's Wine Buyer Becomes Sacramento's First Master of Wine
Posted on March 03, 2020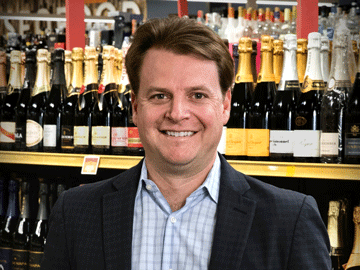 West Sacramento, Calif.—Raley's announced that Curtis Mann, the organization's Director of Alcohol & Beverage, has been named Master of Wine (MW) by the Institute of Masters of Wine. As the most prestigious wine certification in the world, Mann will join an accomplished group of 396 Masters around the world, with only 53 of those residing in the United States. Mann is currently the only Master of Wine buying for a grocery chain in the United States.
"We want to congratulate Curtis on this impressive achievement," said Paul Gianetto, Raley's Senior VP, Sales & Merchandising. "Curtis's perspective and knowledge will continue to enhance our wine category, bringing in new varietals from all over the world at a price point that meets our customers' needs."
The MW examination was first held in 1953 and is designed to test the breadth and depth of one's theoretical knowledge and practical skills in the art, science, and business of wine. To receive the elite certification, Mann passed the Institute's examination, which consists of several theory and practical exams and culminates in the submission of a final research paper.
"Becoming a Master of Wine is an incredible honor," said Mann. "Passing this exam has inspired me even more to share my passion for wine with our Raley's customers and team members."
Mann joined Raley's in 2013. As the grocer's wine buyer, he gained much of his knowledge for the MW through his experience at Raley's, traveling the world finding unique wines and meeting with winemakers and winery owners.
About Raley's
Raley's is a privately-owned and family-operated customer experience grocery company headquartered in West Sacramento, CA. Raley's stores are the destination for the best fresh products, affordable offerings and personalized service. The company's commitment to infusing life with health and happiness by changing the way the world eats, one plate at a time, has made it a trusted source for food, nutrition, and wellness. Raley's strives to enhance transparency and education in the food system in order to help customers make more informed, healthy food choices. Raley's operates 129 stores under five banners: Raley's, Bel Air Markets, Nob Hill Foods, Food Source, and Market 5-ONE-5. Making healthier offerings accessible to everyone, Raley's has expanded beyond the store to operate grocery curbside pick-up and delivery in their nearby communities. Visit at www.raleys.com.
Region:
other
Job Function:
Master of Wine