DeLille Cellars Promotes Nick Bernstein to Winemaker
Posted on February 12, 2020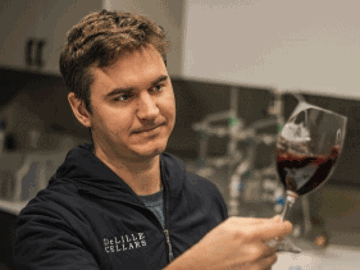 Woodinville, Wash.—DeLille Cellars, a Bordeaux-inspired winery with a rich history of blending fruit fromWashington State's iconic vineyards, announced Nick Bernstein, former Assistant Winemaker, has been promoted to Winemaker, under the direction of Director of Winemaking and Viticulture Jason Gorski. The promotion comes after the winery's first harvest in its new home at the former Redhook Brewery site in Woodinville, now called Hollywood Station.
"I'm honored and excited for the opportunity. I feel extremely lucky to be a part of such a great family at DeLille and look forward to continuing to help craft delicious wines and working with the world-class growers and vineyards we source from," said Bernstein.
Prior to joining DeLille in 2012, Bernstein acquired his B.S. in Biology from the University of Washington and then travelled the world working harvests from Walla Walla to Sonoma and New Zealand.
DeLille Cellars moved its winemaking operations to the old Redhook facility in January of 2019. The company recently opened its three-story retail tower in December 2019, which features seated tastings as well as elevated experiences such as library tastings and food and wine pairings. The tasting room connects to the winemaking facility, where guests can peek into the barrel room to see the French oak barrels that are integral to DeLille's traditional winemaking approach and philosophy.
About DeLille Cellars
Bordeaux Inspired – Distinctly Washington – Uniquely DeLille
DeLille Cellars is the third oldest operating winery in Woodinville, WA, founded in 1992. Known for pioneering Bordeaux-style blends from Washington State, the winery has maintained a tradition of quality and excellence with over 600 individual 90+ ratings from leading publications. DeLille Cellars focuses on the Red Mountain AVA and sources grapes from Washington's most acclaimed vineyards. The winery is recognized by notable wine critics and influencers, including Robert Parker, as one of the top producers in the state. To learn more about DeLille Cellars, visit www.delillecellars.com.
Region:
Washington
Job Function:
Winemaking