TWGGA Announce First Ever Bunny Becker Women in Wine Award Recipient
Posted on February 11, 2020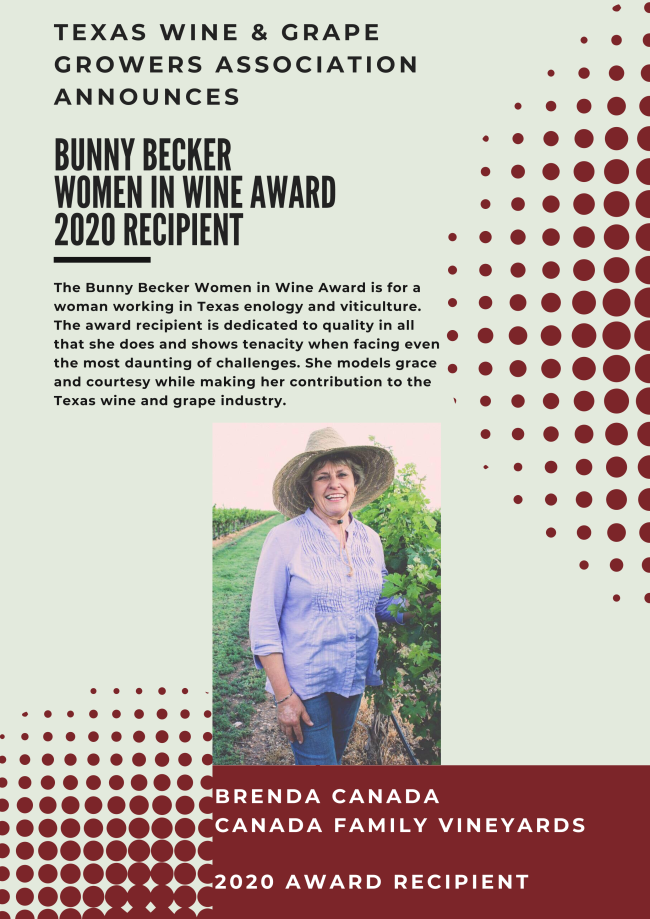 Announcement from the Texas Wine and Grape Growers Association:
The first ever "Bunny Becker Women in Wine Award" recipient is Brenda Canada of Canada Family Vineyards. Nominated by Dr. Richard Becker and many others, Canada was confirmed as the award recipient by the Executive Committee of the Texas Wine and Grape Growers Association.
Dr. Becker says of Canada, "Many of us who were raised in West Texas, on the endless, treeless prairie, with the paucity of water, the ceaseless wind, and the pressing sky, know courage and determination when it walks in the room. It doesn't take many words. It is the measure of what one does. It describes Brenda Canada. Given dirt so defiant that no plow can penetrate, weather so determined to subvert every tender bud, with Dwayne tirelessly at her side, she has harvested fruit that has produced wine that has received the highest accolades in the most prestigious wine competitions and graced the dinner tables in the Governor's Mansion and the White House. She has done this with grace and humility. She provides great inspiration to our industry."
This award will be presented during the Annual Conference in Irving, Texas on Thursday February 20th at the Annual President's Awards Luncheon.
Region:
Southwest, USA
Job Function:
President/Owner/GM