Alma Rosa Winery & Vineyards Appoints New Winemaker
Posted on January 27, 2020
Santa Ynez, Calif.—Alma Rosa Winery & Vineyards, producer of cool-climate, vineyard-designated wines from the Sta. Rita Hills AVA in Santa Barbara County, is pleased to announce the appointment of Samra Morris as Winemaker.

Born and raised in Bosnia, Morris holds both her Bachelors and Masters degrees in Food Sciences from The University of Sarajevo, College of Agricultural and Food Sciences. After completing her education, Morris interned with the Department of Enology at The University of Sarajevo, which propelled her to pursue a career in winemaking. She soon moved to Napa Valley, where she worked as a tasting room associate, interned in the vineyard for St. Supery, spent three harvests as a cellar intern for esteemed winemaker Thomas Rivers Brown and worked on the cellar team at Michael Mondavi Family Estate. In 2017, Morris joined Free Flow Wines as a lab assistant, was promoted to lab supervisor the following year and then to QC manager in 2019, where she was responsible for managing wine and product quality for canning and kegging. Samra joined Alma Rosa in the summer of 2019 as Assistant Winemaker, quickly proving her talents and resiliency in the cellar.

"We're thrilled to appoint Samra as Winemaker of Alma Rosa. She brings intelligence, passion and a strong work ethic to this role," says Debra Eagle, General Manager. "During the 2019 harvest, Samra demonstrated excellent judgment and a refined palate, beautifully combining both the science and the art of winemaking. Her unique perspective and thoughtfulness in the cellar and vineyard make her a great fit for Alma Rosa Winery. We are excited to have her play a key role in furthering our heritage as a producer of distinctive elegant wines from this region."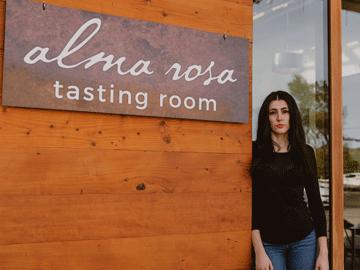 About Alma Rosa Winery

The wines of Alma Rosa are layered, vibrant and balanced, reflecting the cool climate impact of the Pacific Ocean breezes that funnel through the unique East-West transverse mountain range of the region. The winery was founded in 2005 by Richard Sanford, who was the first to plant Pinot Noir in the region in 1971. Sanford went on to launch two wineries, before creating Alma Rosa, which Bob and Barb Zorich purchased in 2014.

For more information, please visit www.almarosawinery.com.
Region:
Central Coast
Job Function:
Winemaking