Delicato Family Wines Announces Appointment Of Mary G. Burnham as Director of Public Relations & Events
Posted on December 11, 2019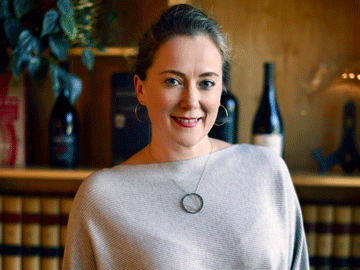 Napa, Calif.—Delicato Family Wines is pleased to announce the appointment of Mary G. Burnham at its Director of Public Relations & Events. Reporting to Jon Guggino, EVP of Marketing, Burnham will lead Delicato Family Wines' public relations efforts for the company's portfolio of 30+ brands. A respected wine communications leader, Burnham joins Delicato with more than 20 years of experience in the public relations and wine industries.
Burnham came to the wine industry from the agency side, working Weber Shandwick, where she developed national consumer PR programs for clients such as Beam Global and Kraft Foods. Her tenure in the wine industry includes five years at Beam Global's wine division, Beam Wine Estates, where she directed public relations for its portfolio of 24 brands, which included Clos du Bois, Buena Vista, Gary Farrell, Geyser Peak, Wild Horse and Cockburn's Ports. Burnham joins Delicato after a decade as a consultant, where she worked broadly across the wine industry, helping brands hone their messaging, voice, content and creative campaigns.
"We are excited to welcome Mary to Delicato. Mary is a strategic thinker and an accomplished spokesperson, with a track record of creating breakthrough PR programs that build brand equity, drive brand awareness and deliver against brand imperatives," Jon Guggino, Executive Vice President of Marketing commented.
Along with an expertise in consumer-led marketing strategies, Mary brings a deep knowledge of fine wine to Delicato, a background that will further bolster the company's luxury wine marketing efforts under its Transcendent Wines division. As a journalist and educator, Mary has written for publications such as FOOD & WINE magazine, as a co-author of the magazine's 320-page annual wine guide, and is a popular instructor at The San Francisco Wine Center.
ABOUT DELICATO FAMILY WINES
Delicato Family Wines is a fourth-generation, family-owned company founded in 1924 and has grown to be one of the U.S.'s fastest-growing top-ten wine companies. Delicato's diversified portfolio of leading brands includes Bota Box, Noble Vines, Gnarly Head, Z. Alexander Brown, Black Stallion, 1924, Three Finger Jack, Toad Hollow, Mercer Bros., Santa Rita 120 (Chile) and Schmitt Söhne Family Wines (Germany). Transcendent Wines, Delicato's Fine Wine Sales & Marketing portfolio, includes such luxury brands as Black Stallion Limited Release, Diora, Dobbes Family Estate Wines and Wine by Joe, in addition to imported luxury estate wines such as Schloss Vollrads, Franz Keller, and Bischöfliche Weingüter (Germany), Casa Real and Triple C (Chile), and Torbreck Vintners (Australia). For more information, visit www.delicato.com.
Region:
Napa & Sonoma
Job Function:
Direct to Consumer