Head Sommelier at Beau-Rivage Palace Elected "Sommelier of the Year" by Gault & Millau
Posted on November 20, 2019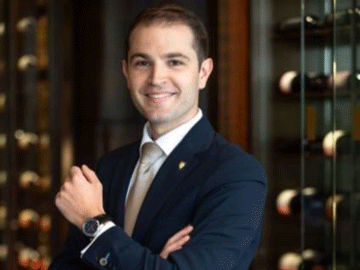 New York, N.Y.—Gault & Millau Switzerland, the Swiss wing of the famous French gastronomic guide, has awarded Edmond Gasser - the Head Sommelier at the Anne-Sophie Pic restaurant at Lausanne's Beau-Rivage Palace (which itself has two Michelin stars and an 18/20 rating by Gault & Millau) - the title of "Sommelier of the Year" for 2020. The announcement was made at the ceremony for the launch of the guide in Basel, Switzerland this fall.
Originally from Paris, the 30-year-old sommelier has been at Anne-Sophie Pic restaurant since February 2019. Gasser nurtured his talent with experiences at some of the leading restaurants in the world, including the famous restaurant Le Cinq (at Four Seasons Hotel George V) in Paris, Königshof restaurant (Hotel Königshof) in Munich and, more recently, Le Chat-Botté (at the Beau-Rivage hotel) in Geneva.
Gasser, who originally set out to become a psychologist, demonstrates striking precision in the dining room, where he heads a team of three sommeliers and pays particular attention to the well-being of guests by suggesting personalized food and wine pairings.
"Customers at the restaurant Anne-Sophie Pic au Beau-Rivage Palace are true connoisseurs. They are increasingly educated in the world of wine, which requires flawless service in every aspect. We can only continue to surprise them if we take this on board, and we win them over with emotions," Gasser explains.
After being named the best young sommelier of Germany in 2015, and winner of the international Languedoc wine trophy in 2017, Gasser - who originally discovered the profession thanks to his first passion, cooking - promises to continue surprising guests by expertly mastering the treasures of the Beau-Rivage Palace's 70,000-bottle cellar.
For more information about the Beau-Rivage Palace and its food and beverage programming, go to: https://www.brp.ch/en/home.
ABOUT THE BEAU-RIVAGE PALACE:
The Beau-Rivage Palace is situated on ten acres of private gardens, adjacent to Lake Geneva with spectacular views of the Swiss Alps. The hotel's award-winning 15,000-square-foot Cinq Mondes Spa contains a fitness room, indoor and outdoor infinity pools, a hot tub and nine treatment rooms.The property's two Michelin starred restaurant Anne-Sophie Pic at the Beau-Rivage Palace features France's only female chef with three Michelin stars. Other amenities include two bars and terraces, two tennis courts and a special program for children. Recent renovations include the revamping of La Terrasse restaurant and La Rotonde, and the opening of a new signature BAR serving bespoke cocktails. The hotel recently underwent an approximately US$ 28 million renovation of 100 guestrooms and suites. The Beau-Rivage Palace has two adjacent sister hotels, the Angleterre and Residence and the Château D'Ouchy, each with additional dining options.
Region:
New York
Job Function:
Sommelier of the Year