Erica Stancliff named Winemaker for Pfendler Vineyards
Posted on October 22, 2019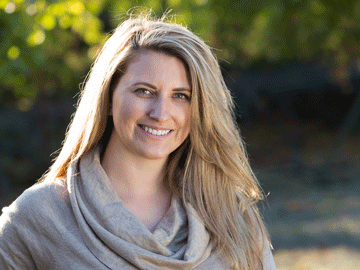 Kimberly Pfendler, owner and founder of Pfendler Vineyards, a boutique producer of estate-grown Chardonnay and Pinot Noir from Sonoma County's Petaluma Gap AVA, has hired Erica Stancliff as the winery's new winemaker. Erica will complete the final blend of Pfendler Vineyard's 2018 Chardonnay and Pinot Noir and will oversee all aspects of winemaking, from harvest to bottling, beginning with the current 2019 vintage.
In addition to Pfendler, Erica is winemaker for her family's winery, Trombetta Family Wines, and serves as President of the Board of the Petaluma Gap Winegrowers Alliance. Her interest in wine began at the young age of 10 through her family friend and mentor, winemaker Paul Hobbs. Following graduation from California State University Fresno with a B.S. in enology, she held an internship at Viña Cobos winery in Mendoza, Argentina, and worked at Rudd Oakville Estate in the Napa Valley, CrossBarn Winery in Sebastopol, and Enartis Vinquiry, where she provided consultation services for winemakers around the world."Erica is a winemaker who shares my love for elegant wines, made with a gentle touch, which are reflective of the vineyard," says Kimberly. "We are aligned in our values and share a common language. I could not be more thrilled to have her at the helm as winemaker for Pfendler Vineyards."
Erica will take an active role throughout the growing season in Pfendler's three estate vineyards, overseeing the vineyard crew and monitoring the development of the grapes. Pfendler Vineyards currently farms Pinot Noir and Chardonnay on three estate vineyards located on the western slopes of Sonoma Mountain, at elevations ranging from 1,800 feet to 2,200 feet. The diversity of soils, exposure and elevation provide Erica a diverse selection of fruit from which to make wine. In the cellar, she will adopt a minimalistic approach, fermenting and aging each lot separately.
"It will be a privilege to make wines for Pfendler Vineyards," says Erica. "My goal is for people to taste the vineyards, not my winemaking style. Each of the three Pfendler sites has its own distinct voice and is specific in the characteristics each produces. It will be a dream to work with such beautiful Petaluma Gap fruit."
About Pfendler Vineyards
Pfendler Vineyards was founded by Kimberly Pfendler in 2007 with the goal of making world-class, elegant Pinot Noir and Chardonnay from her family's mountain property in the Petaluma Gap region of the Sonoma Coast AVA.
Kimberly's late husband, Peter Pfendler, planted the family's first vineyards in 1992, and went on to plant over 200 acres including the very first vineyards in the Petaluma Gap's Crown. Pfendler currently farms 19 acres of Pinot Noir and Chardonnay on three estate vineyards in the emerging Petaluma Gap region of the Sonoma Coast AVA. The vineyards extend from the top of the Pfendler mountain ranch to its base, allowing a tremendous variety of sun and foggy climates to produce a broad range of flavors, resulting in elegant and beautifully complex wine.
Pfendler Vineyards produces a Pinot Noir ($55) and a Chardonnay ($45).
Contact Pfendler Vineyards
(707) 765-5997
info@pfendlervineyards.com
Region:
Napa & Sonoma
Job Function:
Winemaking