Peter Marks MW Joins Napa Valley Wine Academy
Posted on September 19, 2019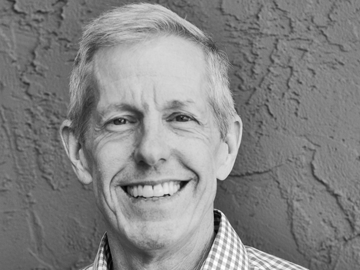 Napa, Calif.—Peter Marks MW has joined the Napa Valley Wine Academy as a Partner and Vice President of Education, managing several key aspects of the Academy's business. Peter will lead corporate business development at the company's Napa headquarters; create new course content and offerings such as Master Classes and Specialty Tasting Courses (ie. Expertise in Sparkling Wine); and instruct courses at the Academy.
"One of our core philosophies in founding the Napa Valley Wine Academy was to provide our students with excellent instruction from wine professionals and experts," explains Napa Valley Wine Academy co-owner and President, Catherine Bugué, "and we are honored and humbled to have Peter Marks' long and storied experience in education at the Academy."
Peter Marks MW holds the highest credential in the industry, Master of Wine, and has mentored numerous of today's subsequent Masters of Wine. He is the current Chair of the Masters of Wine Practical Exam (tasting) and is a former Chair of the Masters of Wine Practical Education Committee. He launched WSET courses for the country's first major wine supplier as Vice President of Education at Constellation Brands. Peter frequently teaches and speaks about wine, with a long list of specialties, including Napa Valley, Champagne, and many others. He is revered in the wine world for his instruction on blind tasting, holding master classes in the Art of Blind Tasting as well as Wine Faults. He also judges at many international wine competitions and assists with charitable fundraisers throughout the year.
"Peter's tasting palate is one of the most revered in the industry and we are excited to begin offering Master courses with Peter, as well as create new and engaging classes for our students," states Christian Oggenfuss, co-owner and CEO of the Napa Valley Wine Academy.
Only 390 people in the world hold the title Master of Wine (MW) as of Fall 2019. Those seeking the title must pass a rigorous 4-day exam that includes blind tastings of 36 wines and 13 closed-book written essays, plus an individual research paper.
Napa Valley Wine Academy is America's Premier Wine School based in Napa Valley, California with ten locations across the United States. The Academy is proud to be an approved program provider of the internationally recognized WSET (Wine & Spirit Education Trust) series of wine, spirit, and sake courses (including WSET Levels 1 through 4 in Wine) as well as Sommelier classes and a host of other specialty classes ideal for enthusiasts and critical for wine and beverage industry professionals.
For more information about the Napa Valley Wine Academy and its numerous courses and experiences, visit napavalleywineacademy.com.

For more information on the prestigious Master of Wine program, visit http://www.mastersofwine.org.
Region:
Napa & Sonoma
Job Function:
a Partner and Vice President of Education