Igor Boccardo, new Genagricola CEO
Posted on September 11, 2019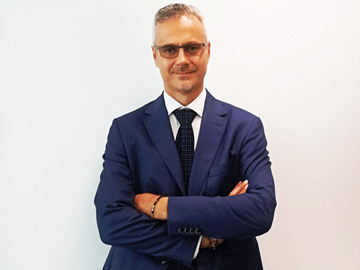 Igor Boccardo, born in Turin in 1969, is the new Chief Executive Officer of Genagricola SpA, the agri-food holding company of Generali Italia and Italy's biggest agri-food company with a cultivated area expanding for over 15,000 hectares with 25 agricultural companies.
Boccardo joins Genagricola after gaining vast experience as head of marketing, sales and general manager in major multinational companies operating in the Fast Moving Consumer Goods sector.
Giancarlo Fancel, Genagricola SpA's Chairman, says: "We are pleased to welcome Igor to the Genagricola team and we are sure that the experience and expertise he has accrued throughout his career will be able to guide the company towards new ambitious goals, allowing Genagricola to represent a reference point in the panorama of Italian Agriculture"
The Genagricola group currently consists of 25 different agricultural companies covering a total of 15,000 hectares of land in Italy and Romania of which 900 hectares are cultivated with vineyards and located in Veneto, Friuli, Piedmont, Emilia Romagna, Lazio and Romania. The company, engaged in the sectors of herbaceous crops, breeding, viticulture, renewable energy production and forestation, closed 2018 with a turnover of 56 million Euros, 60% of which derived from traditional agricultural production and energy generated by its two biomass plants, while the remaining 40% derived from wine production, with over 4 million bottles distributed across the world through 8 brands.
About Genagricola
Genagricola was established in 1851 thanks to the investment in the agricultural sector by Assicurazioni Generali with the acquisition of the Ca' Corniani estate: a vast marshy and malarial area covering 1,700 hectares of land, close to Caorle, in the province of Venice, still the largest and most extensive reclamation completed in Italy by a private entity.
Today, the Genagricola Group, Generali Italia's agri-food holding company, is the largest Italian agricultural company and it intends to encourage a re-focus on agriculture in consumers' minds. It consists of 22 companies in Italy and 3 abroad, covering a total of 15,000 cultivated hectares. It is a main player in five different sectors: Breeding, Herbaceous Crops, Renewable Energy Production, Forestation and Viticulture. The latter includes 7 wineries in Italy (with the brands Borgo Magredo, Bricco dei Guazzi, Costa Arènte, Poggiobello, Tenuta Sant'Anna, Torre Rosazza, Vineyards V8+) and 1 in Romania (Dorvena). Its main international markets are Germany, USA, UK, Canada and China.

Region:
Italy
Job Function:
CEO