Miami Wine Expert Receives Prestigious Vinitaly International Academy, Pin and Certificatio
Posted on July 03, 2019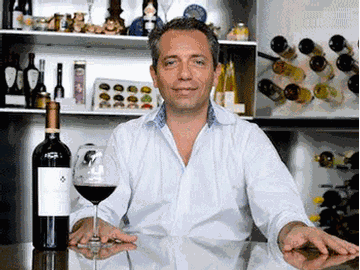 Miami, Flo.—On Sunday, June 30th, Miami-based wine educator and Wine by the Bay owner, Stefano Campanini received the prestigious, Italian Wine Ambassador pin and certification, at the New York City presentation of the Vinitaly International Academy (VIA) Ambassador Course.

With the support of the ICE – Italian Trade Agency, VIA staged the Italian Wine Ambassador course at the 3 West Club from June 26th to 30th, concluding with a four-part vigorous examination: multiple choice test; a video presentation describing an assigned native grape's history and territory; a blind tasting; and a two essay, written portion. Students are encouraged to prepare for the course with text book and tasting studies, at least two months ahead of the actual course and during the course receive theory classes, as well as taste approximately 250 wines.
"It's an honor to be among 200 people from all over the world sharing the mission to instill passion and education to new and seasoned wine lovers," says Campanini.

Campanini is one of twelve people to receive the Italian Wine Ambassador pin of the thirty-nine people who wrote the exam in New York this past Sunday. Not including the most recent recipients, VIA has trained 204 Wine Ambassadors from 33 countries, making Campanini one of only three educators to have received this prestigious title in South Florida.
A native of Parma, Italy, Campanini began his career in the United States as an art dealer in New York. Foreseeing the demand for collectible, contemporary and Latin American art in South Florida with the emergence of Art Basel (Miami), he would become one of the first gallerists to open a space in the Miami Design District in 2004, followed by two moves: Wynwood and now in its current location, Little Haiti.

In 2011, he decided to merge his passion for wine, food and art by opening a boutique, retail wine store in Downtown Miami. He envisioned an intimate space where both wine enthusiasts and experts could meet socially while exploring both the lesser known and most commonly known wine regions of the world, plus learn food and wine pairings and tips on cellar management. Today, he continues classes and services from his gallery, Etra Fine Art and at other locations offering both private and public events.

With his most recent title (he also holds the Wine and Spirits Education Trust, WSET Level 2), Campanini hopes to be South Florida's first voice in Italian wine knowledge.

"Many people don't know that there are 590 indigenous Italian grape varieties! I strive to represent wines that are lesser known, but much higher in quality than what most people get to experience based on the limited selection available in big-box stores," concludes Campanini. "With each bottle that you open, there's a story to be told. I'd like to introduce people to this narrative and help them learn more about the territory, history, cultivation and culture that adds to the uniqueness of Italian wines."
About Wine by the Bay
Established in 2011, Wine by the Bay is an award-winning wine retail store specializing in rare and collectible wines and Champagne. Named Best Wine Store in New Times (2015); One of the Five Best New Wine Stores in the Nation by Details Magazine (2012) and most recently recipient of the Wine-Searcher Gold Awards for best European, French and Overall Lists in Miami (2018.) Wine by the Bay prides itself on presenting educational events for both the wine connoisseur and neophyte. Other services offered are: staff training or strategic wine list design for restaurants; cellar curatorship and management; private cellar selection purchasing; private and corporate events.
Region:
Florida