New Program Development Co-Chairs Selected for 2020 Unified Wine & Grape Symposium
Posted on May 20, 2019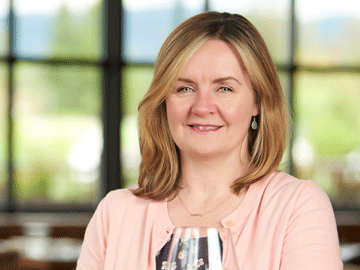 Sacramento, Calif.—Nichola Hall, staff scientist at Scott Laboratories, and R. Keith Striegler, grower outreach specialist at E. & J. Gallo Winery, have been named co-chairs for the 2020 Unified Wine & Grape Symposium Program Development Committee. The co-chairs were selected by the Unified Symposium's LLC Managing Committee, which represents the American Society for Enology and Viticulture (ASEV) and the California Association of Winegrape Growers (CAWG), which have co-hosted the Unified Symposium for 25 years.
Assisting Hall and Striegler in developing the 2020 program for the Unified Symposium will be nearly 30 other leaders from the wine and grape industry, who will work to find applicable and timely topics in winemaking, grapegrowing, business and marketing while pursuing appropriate speakers for the Unified Symposium program sessions.
This is Hall's second year serving as Unified Wine and Grape program development co-chair. She currently serves as technical consultant for all areas of enology with a focus on fermentation management, microbial nutrition, wine microbiology and analysis, and winery hygiene at Scott Laboratories. She is an active member of ASEV, Gold Standard Committee, Sonoma County Wine Technical Group and American Vineyard Foundation Grant Management Committee. Hall graduated with a Bachelor of Science (HONS) in Microbial Biotechnology in 1997 and earned her doctorate in yeast physiology and fermentation science from the University of Abertay in Dundee, Scotland.
Newly appointed co-chair Striegler serves as a grower outreach specialist with E. & J. Gallo Winery. He previously served as the outreach coordinator with the National Clean Plant Network. He's an active member of the ASEV board, Lodi Winegrape Commission Research, Education & Communication Committee, and National Grape Research Alliance board. He has previously served as a member of the Unified program development committee, ASEV-ES board, and USDA Special Grants Program – Viticulture Consortium East – Regional Guidance Committee. His professional affiliations include the American Society for Horticultural Sciences, American Pomological Society, International Society for Horticultural Sciences and Australian Society of Viticulture and Oenology. He received his doctorate in Horticulture in 1990 from Michigan State University.
Hall and Striegler hosted their first meeting of the group on May 17. "The Unified Symposium is truly unique in its approach to seeking out the brightest and most enterprising minds in the business to serve on our program development committee. We strive to strike a balance of practicality, substance and relevance while challenging our attendees to look outside the box," said Hall.
"Watching the process come to life with the program development committee and seeing how this group tackles the issues and challenges is inspiring and rewarding. Having been a part of this process before, I'm honored to have been chosen to co-chair with Nichola to develop a program to match the size of Cal Expo," said Striegler. "I see the change in venue to Cal Expo as a unique opportunity to potentially do things a little differently, while building on the success of technical programs at previous Unified Symposiums."
In 2020, the Unified will be at Cal Expo, a temporary host site, due to the Sacramento Convention Center's large-scale renovation which will close it down starting this summer. With the Unified set for February 4-6, 2020, Cal Expo will provide an alternative to the Convention Center with ample space, parking and facilities for a conference of Unified's size.
Built with the joint input of growers, vintners and allied industry members, the Unified Symposium serves as a clearinghouse of information important to wine and grape industry professionals. The Unified Symposium also hosts the industry's largest trade show of its kind, with nearly 700 vendors displaying their products and services. For additional information, go to www.unifiedsymposium.org.
Region:
Central Valley
Job Function:
Co-Chair