National Winemaking Consultant Awarded Distinguished Alumnus Award
Posted on May 17, 2019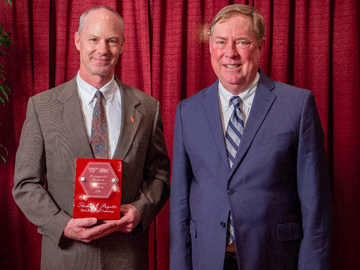 Tom Payette, national winemaking consultant, was awarded Virginia Tech's Department of Food Science and Technology's Distinguished Alumnus in Government or Industry Award from the College of Agriculture and Life Science Alumni Organization on Friday, March 22, 2019. The Ut Prosim Award is given annually to an alumnus who has excelled in their profession as well as contributed extensively to the betterment of their industry through community service.
Since Tom graduated from the Department of Food Science & Technology over 30 years ago, he has become one of the most respected winemaking consultants in the United States.
His work, although often behind the scenes, has directly contributed to the tremendous growth of the over $1.3 billion wine industry in Virginia. With an extensive client base in Virginia and the mid-Atlantic Payette also serves winery clients as far away as Texas, California, Wisconsin and New Mexico.
Tom has worked in all aspects of wine production, from winery business planning, vineyard establishment and management, winery design and operations, as well as wine analysis, blending and sales.
Tom Payette currently serves on the Atlantic Seaboard Wine Association Board, the Eastern Wineries Exposition Board, and The Rapidan Foundation Board. He has contributed to the broader field of wine production through numerous speaking engagements on technical aspects of winemaking at industry meetings targeted to beginners as well as industry veterans. Tom has also written numerous articles on technical topics in winemaking for two national trade journals.
A resident of Orange County, Payette continues to assist clients with winery start-up services, still and sparkling wine production as well as general winery business services. Tom can be reached at 540-672-0387 or visit his website at www.winemakingconsultant.com.
Region:
Virginia
Job Function:
Winemaking