David Milligan Selections Appoints Will Jones New York City Sales Consultant
Posted on May 01, 2019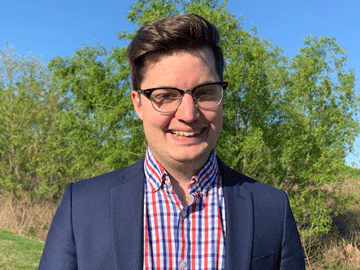 New York, N.Y.— (May 01, 2019)—David Milligan Selections, a leading French-wine import company, is pleased to announce the appointment of Will Jones as New York City Sales Consultant.
In this role, Jones will be responsible for increasing sales of the entire David Milligan Selections portfolio across the New York Metro area. Jones joins the import company just as it launches its premium wine in a can brand, On Y Va Vin de France (@DrinkOnYVa), and he is charged with introducing the On Y Va Loire Valley Sauvignon Blanc to the market.
"I'm thrilled to welcome Will to the team. His youth and passion for wine are infectious, and he'll infuse the market with excitement for our delicious estate wines," says Alexander Milligan, President of David Milligan Selections. "Having a dedicated salesperson walking the streets of the city every day will strengthen our portfolio's New York presence and solidify our support and commitment to the independent retailers and restaurants in Manhattan and surrounding areas."
Jones was formerly a wine representative for International Wine and Craft Beer in Birmingham, Alabama, where he serviced 50 established accounts and also brought on new accounts. Before that, Jones was a wine buyer and manager at Church Street Wine Shoppe in Huntsville, Alabama. Jones graduated from The University of Alabama with a bachelor's degree in history, and has completed his Court of Master Sommeliers Level 1 Certification.
"We are excited to welcome Will and his wife to New York City, and to have him hit the ground running. Will is our second full-time employee during a thrilling time of growth for David Milligan Selections, and as we like to say, he isn't just starting a new job with us, he is joining the DMS Wines family," says Alexander Milligan. DMS Wine hired Jenny Mueninghoff Davis as National Key Accounts Director on February 01, 2019.
About David Milligan Selections
David Milligan Selections is an importer of fine French wines founded in 1995. The importer currently works with 16 French wineries, selling their wines in 29 states across the U.S., Washington, DC and the Virgin Islands. In July 2018, Alexander Milligan was named President of David Milligan Selections. Alexander Milligan was named a Wine Enthusiast 40 Under 40 Tastemaker in October 2018. The company is launching ON Y VA Loire Valley Sauvignon Blanc premium French wine in a can in May 2019.
Region:
New York
Job Function:
Sales/Marketing