BC Wine & Restaurant Legend Wins 2019 Trailblazer Award
Posted on April 26, 2019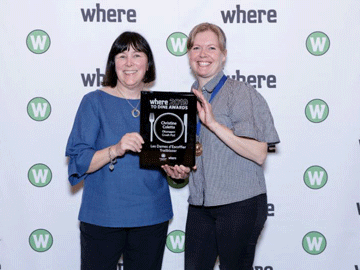 Vancouver, BC—Christine Coletta, owner of Okanagan Crush Pad, has been honoured with the 2019 Trailblazer Award by the BC Chapter of Les Dames d'Escoffier during the Where to Dine Awards celebration.
Les Dames d'Escoffier is an organization of women leaders in food, beverage and hospitality whose mission is education, scholarship and philanthropy. The award was presented by BC chapter president Mireille Sauve (pictured below).
This award honours exceptional women in BC who have blazed a trail and explored new territory. The award also celebrates the inclusion of others along their journey and/or provided a pathway to inspire others in their own careers.
Upon expecting her awards, Coletta shared "...you can't blaze a trail unless you have people in front of you clearing the path, people behind you pushing you along and people filling your gas tank from time to time."

Where Did it All Begin?
Coletta's career started in the hospitality industry, where she spent several years working in management roles in Vancouver-based restaurants and hotels, including Bridges, A Kettle of Fish and the Prospect Point Café in Stanley Park. She went on to work in restaurant development and oversaw the opening, marketing and management of many successful fine dining establishments.
From there, Coletta formed her own consulting firm and worked on several provincial and federal government initiatives. Notably, she was part of the industry team behind the creation and marketing of the training program "Serving it Right", which is now recognized as a key training tool for the BC hospitality trade.
Gaining Traction
Through government and private roles, Coletta has been internationally-recognized for her work in the wine industry throughout the past 25 years. She held the position of executive director to the then newly-formed British Columbia Wine Institute (BCWI) in 1990 for nine years. While at the BCWI, Coletta was instrumental in defining Okanagan wine country, putting VQA wines on the map and convincing BC restaurateurs to carry BC wines.
Coletta created marketing and branding programs that built awareness for BC wines across Canada and in international markets and was recognized at the 30th annual Vancouver International Wine Festival where she was awarded the "Spirited Industry Professional" award for her industry contributions.

The Latest Chapters
In 2011, Coletta and her husband, Steve Lornie, reinvented themselves and opened Summerland's Okanagan Crush Pad winery. The innovative concept comprises a custom winemaking facility that is now home to the winery brands Haywire, Narrative, and Free Form as well as wines made for other vintners. Since opening the facility Coletta and Lornie have been gathering accolades and recognition for their unique business model, including being named an Innovator of the Year for 2013 from the Thompson Okanagan Tourism Association, and one of the Top Innovative Companies in BC from BC Business magazine. In 2018, Coletta was presented with the Founders Award at the Okanagan Fall Wine Festival.

Coletta has recently been called the "Godmother of British Columbia Wine" as the breadth of her contributions and innovations to the food and wine community only seem to expand. Furthermore, she continues to push forward on her mission in support of sustainable and organic farming, now owning 400 acres of land officially deemed certified organic, with 100 of those acres planted to grapevines.
A True Trailblazer
Coletta doesn't keep her knowledge and ideas to herself. She shares her resources and continually offers advice and encouragement to not only her own team and people, but also her community and industry. Her most recent project is on the team that formed the Okanagan Wine Initiative, where seven leading BC wineries have united to share resources and to collaborate on various projects internationally, across Canada, and in their home market, British Columbia.
Coletta's passion and leadership for propelling BC wine forward has resulted the wine industry to be recognized at an international level. Between growing a business that serves her own wines, Coletta's endeavours have benefitted countless members of the wine and hospitality industries, which truly makes her the definition of a forceful trailblazer.
About the Where to Dine Awards
The Where to Dine Awards celebrate the ultimate in Vancouver's culinary experiences, as voted on by Where Vancouver readers, along with a select number of editorial and specialized awards, recognizing a broad range of establishments and individuals.

About Okanagan Crush Pad
Okanagan Crush Pad is Canada's first purpose-built custom crush winery facility, located on the 10-acre Switchback Vineyard in Summerland, BC. Owned by Christine Coletta and Steve Lornie, Okanagan Crush Pad focuses on making wines that celebrate purity and simplicity, and aim to lead the next evolution of Okanagan wine. Visitors to the tasting lounge, set in the heart of this state-of-the-art facility, get a rare glance into the art of winemaking. Watch the cellar team in action, discover why the team makes wine in concrete tanks, and learn how the team composes wines that are definitive expressions of their vineyards.
Region:
British Columbia
Job Function:
President/Owner/GM