Lindsey Nelson Promoted to Precept Wine's Grape & Grain Director of Marketing
Posted on December 19, 2018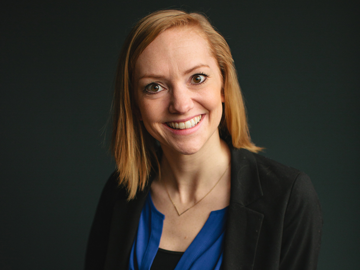 SEATTLE– Precept Wine Chief Marketing Officer Alexandra Evans announced Lindsey Nelson as the newly promoted Marketing Director of Grape & Grain, one of its fastest-growing business divisions overseeing innovation wines and exclusive brands.
"Lindsey has been an integral part of the consistent double digit growth that we have seen in the Grape & Grain business over the last five years, achieving customer nirvana with many of our top retail accounts," Evans said. "All who work with Lindsey are aware of her extraordinary talents as a marketer, co-worker, business leader, and creative director; we look forward to seeing her extend her skills into a broader leadership role."
Nelson has a team of four brand and marketing managers along with support from the Precept Wine creative services team of in-house design, public relations, and social media. Her Grape & Grain brands represent a production of nearly one million cases per year. She is based out of the company's Seattle headquarters.
Starting at Precept Wine as an intern in sales and marketing while obtaining her bachelor's degree in marketing and international business from the University of Washington's Michael G. Foster School of Business, Nelson has touched virtually every role in the marketing department. She joined Precept Wine full-time as a sales coordinator upon graduation, moved into the innovation division (now known as Grape & Grain) in 2013, was promoted to brand manager in 2015 and for the last three years has stewarded the department through tremendous growth, including Precept Wine's recent $18M acquisition of top innovation brands from Truett-Hurst's wholesale division.
About Grape & Grain - Grape & Grain is a division of Precept Wine dedicated to innovating and producing top-performing exclusive brands for strategic on- and off-premise accounts. Grape & Grain sources from Precept Wine's own estates and wineries in addition to a robust global sourcing platform, bringing wines to customers in all packaging formats from 750ml bottle, to 3l box, to 375ml cans. Grape & Grain offers full-service capabilities to take a brand from concept to market, giving it a competitive edge. In addition to wine, Grape & Grain also works on projects within the spirits and beer spaces.
Seattle-based Precept Wine is the largest privately held wine producer in the Pacific Northwest and a top 13 American wine producer. With deep roots representing more than 30 years of Northwest investments in the wine industry, it owns and maintains more than nearly 5,000 planted vineyard acres across Washington, Idaho, New Mexico and Oregon; such leading wine brands as HOUSE Wine, Browne Family Vineyards, Waterbrook, Canoe Ridge Vineyard, Gruet, Primarius, Cense, Colby Red and Dearly Beloved, Ste. Chapelle, Pendulum and Shingleback, and Red Knot, plus tasting rooms and hospitality throughout the Northwest. Founded in 2003 by Andrew Browne, the company's wineries have garnered more than 600 combined best buys and critical scores exceeding 90 points. Learn more at www.preceptwine.com.
Region:
Northwest, USA
Job Function:
Sales/Marketing, Direct to Consumer