Dr. Mark Lemmon, Founder of Monterey's San Saba Winery, Passes Away Peacefully
Posted on July 16, 2018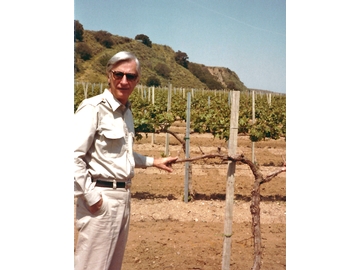 Dr. Mark Lemmon, the founder of Monterey County's San Saba Winery, passed away peacefully on July 13th.
Dr. Lemmon was one of the early wine pioneers along Monterey's famed River Road. His vineyard, a 72-acre site located in a sheltered nook just below the Santa Lucia Highlands, was one of the six original properties developed by Jerry McFarland. Dr. Lemmon purchased the vineyard in 1975 and for the next 31 years produced wines under the San Saba and Bocage labels.
Dr. Lemmon was introduced to wine at an early age by his father, an architect in Dallas, Texas and an ardent Francophile who would regularly take family vacations in the wine regions of Europe.
After serving during World War II and Korea, Dr. Lemmon returned to Texas and established his private practice in Dallas. There he earned a worldwide reputation for pioneering the modern facelift procedure.
In 1975, Dr. Lemmon purchased his River Road property, making him one of the pioneers of this emerging winegrowing region. He produced his first Cabernet Sauvignon in 1981 and released it in 1984.
Dr. Lemmon retired from medical practice in 1991 and he and his wife Barbara devoted their attention to the day-to-day operation of the winery. In 2007, Dr. Lemmon turned the direction of the estate over to his wife and her son, Michael Thomas, who later relaunched the property under the Wrath Wines label.
"Mark was one of the first to recognize how special this place is for winegrowing," said Michael Thomas. "It was his vision that laid the foundation of our vineyard and led to the quality we see in Wrath today."
Since 2007, more than 115 wines from Dr. Lemmon's San Saba Vineyard have received scores of 90 points or more. Wrath still produces Chardonnay from original vines he planted in 1977.
Region:
California, USA
Job Function:
President/Owner/GM