UC Davis Wine, Food, and Entrepreneurship Institutes Announce New Director to Lead Robert Mondavi Institute
Posted on June 18, 2018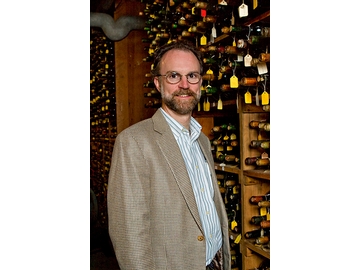 Andrew Waterhouse to lead Robert Mondavi Institute
Professor Andrew Waterhouse, a faculty expert in wine chemistry, quality and analysis, has been named director of the Robert Mondavi Institute for Wine and Food Science at the University of California, Davis.
Waterhouse brings extensive experience in teaching, research and community involvement to the institute, which connects faculty and students with a broad network of scientists, entrepreneurs, policymakers, consumers and industry professionals engaged in wine, brewing and food science.
Professor Andrew Waterhouse has been named director of the Robert Mondavi Institute. (UC Davis photo)
A professor of enology, Waterhouse has held the John D. Kinsella Chair in Food, Nutrition and Health, served as chair of the Department of Viticulture and Enology, and most recently was associate dean in Graduate Studies. He is highly cited in agricultural research and teaches both graduate and undergraduate classes in wine chemistry.
Waterhouse will begin his new role on Aug. 1, taking over for Interim Director Jean-Xavier Guinard, a professor and sensory scientist in the Department of Food Science and Technology.
Made possible by the generosity of Robert Mondavi, the institute was founded to enhance and celebrate the science of wine, brewing and food.
Helene Dillard, plant pathology professor and dean of the UC Davis College of Agricultural and Environmental Sciences, said Waterhouse is uniquely suited to support the mission of the college and institute.
"Professor Waterhouse comes to us with excellent experience in research, teaching and community partnership," Dillard said. "UC Davis and our college are committed to Robert's vision for the institute. We greatly value the foundational support of our partners, and we are dedicated to maintaining and building relationships with all who have contributed to our growth and success."
Region:
Napa & Sonoma
Job Function:
Director