Skinner Vineyards & Winery Appoints a New Director of Winemaking
Posted on June 18, 2018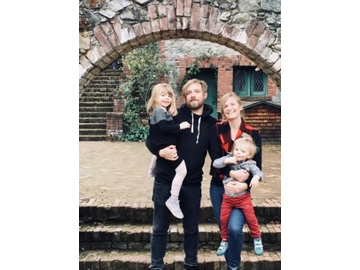 Somerset, El Dorado wine region, CA (June 18, 2018)
Mike and Carey Skinner, proprietors of Skinner Vineyards & Winery, located in El Dorado County wine region are thrilled to announce the appointment of Adam Smith as director of winemaking.
Smith, raised in the Sierra Foothills region of California, has cut a wide swath in winemaking in his journey back to the foothills. He honed his craft in the Willamette Valley in Oregon with engagements at Domaine Serene, Bethel Heights Vineyards, and Shea Wine Cellars. He collaborated with Jean-Nicolas Méo of Domaine Méo Camuzet in Burgundy to establish Domaine Nicolas-Jay in Oregon. Following a stint as winemaker for Sonoma Coast's Banshee Wines, he made wine for Banshee's Oregon brand, Averaen Wines. He and his wife, Lauren Eisold, a busy viticulturalist, established their own brand, Eisold Smith, in Oregon. Smith has also worked with Napa Valley's Crushpad and New Zealand's Craggy Range.
"It's been a longtime dream to return to where five generations of my family lived and near the dirt, trees, and elevations I'm connected to. The Skinner family is a terrific fit for their mutual respect of the transcendent possibilities in El Dorado vineyards," says Smith.
It is an exciting time for the Skinners as well, as they reestablish their family's roots in the Sierra Foothills. On a dedicated pursuit to re-create the legacy of James Skinner, founder of one of the largest operating wineries in El Dorado and in the country in the mid-1800s, they have developed vineyards on and near the original site. Wines from their vineyards, planted at elevations of 1,310 to 2,740 feet, have received consistent high scores and are serving to illuminate the quality of the region. Carey Skinner says, "We are excited to begin this new chapter with Adam on our team. His approach to winemaking, passion for his home soil, and familiarity with the esteemed Pinot Noir regions in the U.S., brings a special sensitivity to El Dorado's distinctive terroir." Smith will join associate winemaker Mark Fowler, who embarks on his 5th vintage at Skinner Vineyards.
About Skinner Vineyards & Winery
Mike and Carey Skinner followed a seventh-generation tradition by establishing Skinner Vineyards in the El Dorado wine region in 2007. The Skinners are painstakingly re-creating their ancestors' mid-19th-century wine legacy. Specializing in the prized varieties of southern France, they sell their wines under the exclusive Skinner Vineyards label and the popular Smithereens label. Skinner Vineyards & Winery has garnered high marks and acclaim from every major wine publication in the U.S. The winery and tasting room are located at 8054 Fair Play Road in Somerset. http://skinnervineyards.com/
Region:
other
Job Function:
Winemaking