Scheid Family Wines Promotes Dave Nagengast to VP of Winemaking
Posted on May 08, 2018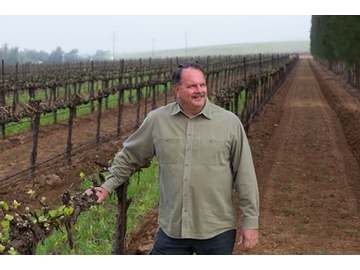 SALINAS, California – May 8, 2018 – Scheid Family Wines (SFW) announced it has promoted Dave Nagengast to Vice President of Winemaking. Dave has served as the company's Director of Winemaking since 2006. Among other duties, Dave will direct the winemaking for all SFW's individual wineries and brands including Scheid Vineyards, Metz Road, District 7, Stokes' Ghost, VDR, Ranch 32, Ryder Estate and GIFFT.
According to Kurt Gollnick, COO of SFW, "Dave has helped direct Scheid Family Wines' evolution from grape grower to one of California's top fully-integrated wine producing companies. He played an integral part in the design and construction of our winery and its subsequent expansions and process improvements. Under Dave's direction, Scheid Family Wines has built a reputation throughout the wine industry as a leading producer of serious wines from Monterey County."
Dave is an early adopter of sustainable farming and winemaking practices, and an innovator in both the vineyard and cellar. In 2017, he and his team developed their In-Vineyard Native Yeast Fermentation Program to create the ultimate expression of Chardonnay from the Riverview Vineyard. To avoid the influence of yeast strains already established at the winery, they brought a small press and refrigerated container to the site to initiate a true Riverview indigenous yeast fermentation. They crushed the grapes and filled twenty new French oak barrels, half of Wente clone and half of Dijon clone 96. The resulting wine beautifully captured the true personality of this unique cold-climate site.
Dave holds a B.S. degree in Agriculture Science with an emphasis in Enology from California State University at Fresno. He joined SFW in 2002 as a consulting winemaker. Prior to that, he held winemaking positions at Storrs Winery, Mirassou Vineyards and San Martin Winery. Dave and his wife Beth have three sons who have followed in his footsteps as a collegiate discus thrower.
About Scheid Family Wines
Scheid Family Wines has farmed wine grapes in Monterey County, California since 1972. Today the company has 4,000 acres of sustainably-certified, estate vineyards planted across four climatic zones along a 70-mile stretch of the Salinas Valley. Their vineyards feature 39 individual grape varieties and 20 distinct clones of Pinot Noir. A large state-of-the-art winery and smaller Reserve Winery ensure that SFW is fully-integrated and capable of bringing high-quality estate grown wines to the marketplace. The Scheid Family Wines nationally-distributed portfolio includes Scheid Vineyards, District 7, Metz Road, VDR, Stokes' Ghost, GIFFT, Ranch 32 and Ryder Estate. In addition, Scheid Family Wines produces over 25 regionally distributed brands for specific clients or distributors.
Region:
Central Valley
Job Function:
Winemaking, Cellarmaster/Production, Vineyard Management/Viticulture