Summit Engineering of Santa Rosa is pleased to announce exciting changes in our leadership team
Posted on March 27, 2018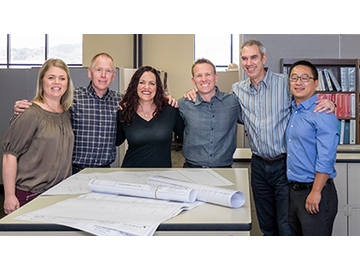 In recognition of his contribution to firm success, Yi Yang, S.E. has been promoted to Managing Principal at Summit Engineering. He is responsible for the firm's operations, business development and other strategic initiatives. Yi also continues to serve as the Structural Division manager. He joined Summit in 2001 and received his bachelor's degree in civil engineering from Case Western Reserve in Cleveland. In 2012, he was named one of the Business Journal's Forty Under 40 winners.

Greg Swaffar, P.E., continues to serve as Principal within the firm, and will focus on providing support and advice to the leadership team. He previously served as President, and remains involved in master-planning, permitting and project team leadership. He joined Summit in 1983 and is a graduate of the University of California, Davis.
Demae Rubins, A.I.C.P., manager of the Planning Division, has been promoted to Principal in recognition of her successes in planning, permitting, and project management. Demae joined Summit in 2006 and has more than 18 years of experience. She received a bachelor's degree in landscape architecture at California Polytechnic University, San Luis Obispo.

The Summit leadership team also includes Principals Zak Zakalik, manager of the Electrical/Lighting Design Division; Jasper Lewis-Gehring, P.E., manager of the Civil Division; and Gina Giacone, P.E., manager of the Water/Waste Management Division. The new team is committed to carrying forth and improving the quality engineering and personal service that defines Summit.


Region:
other
Job Function:
President/Owner/GM, Leadership Roles