Gregory Hayes, Sommelier at Lynfred Winery, Is Promoted to General Manager of Naperville Wine Tasting Room, Tasting deVine Cellars
Posted on March 07, 2018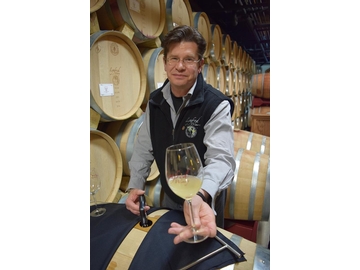 ROSELLE, IL – (March 2, 2018) – Certified Sommelier Gregory Hayes lends his extensive wine knowledge and expertise to the Lynfred Winery. Mr. Hayes' level of service and dedication to the winery has led to his promotion as the new general manager of Tasting Devine Cellars in downtown Naperville, following the footsteps of Jodi Dirth in retirement. Tasting deVine Cellars is a sister store to the Lynfred Winery.
By happenstance, Mr. Hayes was introduced to Lynfred Winery by a friend and became part of the Lynfred family when he began working at Tasting Devine in Wheaton in November of 2000. He received his formal wine education from the Culinary Institute of America, Napa Valley, in their post-graduate Accelerated Wine and Beverage Program. As one of just twenty-one students accepted worldwide, Gregory spent an intense 8 months living in St. Helena, California, located in the heart of Napa Valley immersing himself into the expansive, intricate world of food and wine.
For the past five years Hayes has been sharing his joy of wine at Lynfred Winery in Roselle through wine education classes and concierge level service in the winery's Founder's Room. Mr. Hayes has been like a pied-piper to wine lovers and enthusiasts. "Gregory has created his own following of what we call, 'The Gregory Fan Club' at the winery", says Lynfred Winery general manager Andres Basso. With his promotion to running our Naperville location, Gregory will be bringing a whole new repertoire of wine tasting events, pairings and excitement to downtown Naperville.
About Lynfred Winery
Lynfred Winery is the oldest and largest, continuously-operating, family winery in Illinois, producing over 80 varietals and 40,000 cases of fine wine per year. Since 1979 Lynfred Winery has offered guests the finest vintages, gourmet cuisine and luxurious lodging. Lynfred is truly one of Chicago's most unique attractions. 15 South Roselle Road, Roselle, IL 60172
Lynfred Winery has tasting rooms located in Wheeling (971 N. Milwaukee), Wheaton (127 W. Front Street) and Naperville (21 W. Jefferson). *end
Region:
Illinois
Job Function:
President/Owner/GM