Stoel Rives Appoints New Partners in Portland Office
Posted on January 08, 2018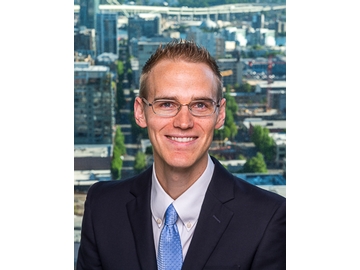 PORTLAND, Ore. (January 2018) – Stoel Rives LLP, an Am Law 200 law firm, is pleased to announce that two attorneys from the firm's Portland office, Todd Friedman and Brant Norquist, have been named partner. They are among four Stoel Rives attorneys who became new partners of the firm effective Jan. 1, 2018. Located in three of the firm's offices nationwide, the new partners are focused on client value, diversity and innovation, which are keystones of Stoel Rives' corporate culture and commitment to excellence.
"I am pleased to welcome this talented group of diverse and dedicated lawyers to partnership," said Firm Managing Partner James E. Torgerson. "Our new partners will help us continue to implement our strategic plan moving into 2018. Their depth of experience, commitment to business success, and focus on client service will be invaluable in the leadership of the firm as we continue to work to modernize Stoel Rives and lay the foundation for an even stronger future."
Norquist focuses his practice on debt financing transactions, including bank credit, construction and asset?backed loans; Rule 144A offerings with a debt component; public debt offerings; real estate financing, lease financing, refinancing, workouts and reorganizations with a debt component; legal opinions; and energy and project debt finance.
He regularly works with large companies in a variety of industries, including NANA Development Corporation; Ahern Rentals, Inc.; Lithia Motors, Inc.; and Cyrq Energy, Inc.
"I help both borrowers and lenders navigate their debt financing transactions from start to finish," said Norquist of his practice. "I help my clients craft solutions to complex problems to ensure that the transactions meet my clients' objectives."
Norquist holds a Master of Business Administration degree and a law degree from the University of Oregon. He holds a bachelor's degree from the University of Portland. He frequently supports the greater Portland community and serves on the board of directors of the Portland-area nonprofit Schoolhouse Supplies.
About Stoel Rives LLP
Stoel Rives is a leading U.S. corporate and litigation law firm. One of the largest national firms focused on energy, natural resources, climate change and the environment, Stoel Rives also serves the agribusiness, food and beverage, health care, life sciences, and technology industries. With more than 350 attorneys operating out of 10 offices in seven states and the District of Columbia, Stoel Rives is a leader in regulatory and compliance matters, and business, labor and employment, intellectual property, land use, and real estate development and construction law.
Region:
Oregon
Job Function:
New Partners