Travis Proctor Named Director of Winemaking Operations at Wine By Joe/Dobbes Family Estate
Posted on November 08, 2017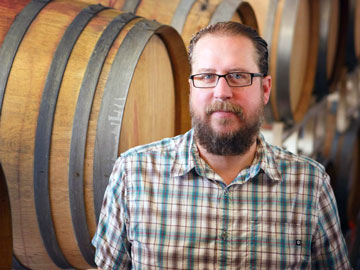 Dundee, Oregon, November 7, 2017 - This year, Wine By Joe / Dobbes Family Estate Winery is celebrating its 15th anniversary, and announces multiple internal promotions, as well as new national sales and marketing initiatives.
Travis Proctor came to Wine By Joe in 2015 as Production Winemaker to oversee all wine production for the company, under the direction of Joe Dobbes. Now promoted to Director of Winemaking Operations, Proctor will continue in this role, but will also participate in a broader range of company activities, including vineyard/grower relations, industry engagements, business development and promotions.
Proctor grew up in the Paso Robles area and has worked in all scales of winemaking, almost always including a focus on Pinot Noir. Proctor celebrated 20 years in the wine industry in 2017, after production management and winemaking positions in San Luis Obispo County, Santa Barbara County, and the Russian River Valley. Through two decades in the custom crush sector, he has learned many approaches to wine production. This experience is widely applied in both the Wine By Joe and Dobbes Family Estate productions.
About Wine By Joe / Dobbes Estate Wine
Founded in 2002, Wine By Joe / Dobbes Family Estate embodies over three decades of fine winemaking. Today, we are one of Oregon's largest producers. By selecting the finest grapes from Seabreeze Vineyard, our 214-acre estate, and from other premier vineyards, we consistently produce expressions of Oregon's truest varietals.
Based in Dundee, Oregon, we are a multi-tiered business with focus on crafting traditional Burgundian style wine under three brands: Dobbes Family Estate, the premier label dedicated to Willamette Valley Pinot Noir, Chardonnay and Rosé as well as Rogue Valley Syrah, Viognier and Grenache Blanc; Wine by Joe, our Oregon appellation label that completely overdelivers in value, offering Pinot Noir, Pinot Gris, Pinot Blanc, Rosé and Chardonnay and finally, Jovino, which provides a Willamette Valley blend of Pinot Noir and Pinot Gris specifically for the fine dining market.
In celebration of its 15th anniversary, throughout the year Wine By Joe / Dobbes Family Estate has been celebrating with special club member dinners, anniversary library flights, and our inaugural release of bubbles. All are invited to join us in the winery's tasting room for flight tastings 11am – 6pm daily.
About Bacchus Capital Management
Bacchus Capital Management is an investment firm providing strategic capital and making equity investments in United States wineries and wine businesses. Current Bacchus portfolio companies are: DeLille Cellars, Madrigal Family Winery, Maritime Wine Trading Collective, Panther Creek Cellars, Sbragia Family Vineyards and Dobbes Family Estate / Wine by Joe. Prior Bacchus portfolio companies are Andretti Winery, Cameron Hughes Wine, and Qupé. For more information, visit www.bacchuswinefund.com
Region:
Northwest, USA
Job Function:
Winemaking