Lynfred Winery Welcomes New Tasting Room Manager
Posted on June 29, 2017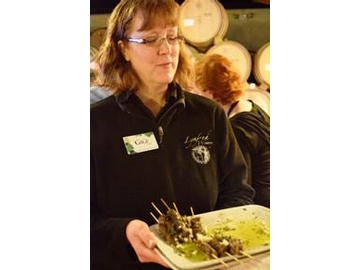 ROSELLE, IL – (June 26, 2017) For almost 40 years, Lynfred Winery's tasting room was managed by Lynfred Winery founder Fred Koehler's daughter, Diane Koehler-Rasmussen. Mrs. Koehler-Rasmussen officially retired on May 27 and on May 28 Gigi Bendis assumed the position of Tasting Room Manager at Illinois' oldest and largest, family-owned winery.
Bendis is no stranger to Lynfred Winery, as she has been working for the winery for over three years as a sales associate. She quickly rose in the ranks at the winery with her dedication to customer service and her eye for detail. "We saw something special in Gigi immediately," says Lynfred General Manager Andres Basso. "The winery is dedicated to concierge-level service, and Gigi's desire for excellence will help carry on the amazing legacy that our founders created."
Chicago-born Bendis studied for her undergraduate at DePaul University and graduated from the University of Illinois at Chicago. Bendis began her career in early childhood education but put that on the back burner to raise her three sons with her husband of now 25 years. During that time, Bendis became highly invested in working with the Boy Scouts, as well as with the Bartlett Library. "The Lynfred Family has welcomed me with open arms since I started as a part time employee in 2013," says Bendis. "I am delighted for the opportunity to take on the challenge as Tasting Room Manager. Diane is a remarkable mentor, and I have big shoes to fill. The knowledge she has given me is invaluable and will be used daily."
About Lynfred Winery
Lynfred Winery is the oldest and largest, continuously-operating, family winery in Illinois, producing over 70 varietals and 30,000 cases of fine wine per year. Since 1979 Lynfred Winery has offered guests the finest vintages, gourmet cuisine and luxurious lodging. Lynfred is truly one of Chicago's most unique attractions. 15 South Roselle Road, Roselle, IL 60172
Lynfred Winery has tasting rooms located in Wheeling (971 N. Milwaukee), Wheaton (127 W. Front Street) and Naperville (21 W. Jefferson).
Job Function:
Direct to Consumer