Ross Bentley Joins Wine Country Consultants
Posted on June 08, 2017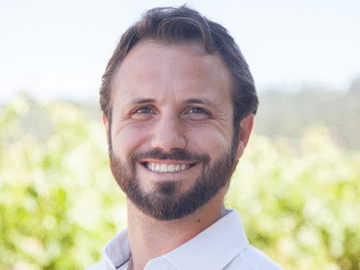 Napa Valley, June 2017 --- Ross Bentley has joined Wine Country Consultants as a partner, in an announcement by Robyn Bentley, the real estate company's founder and president.
Ross Bentley has spent the last eight years in key roles at Hundred Acre Wine Group, most recently as Director of Production, building on his prior responsibilities as Operations Manager. He assisted with the production of prestigious brands including Hundred Acre, Cherry Pie, Layer Cake and If You See Kay. He played a key role in compliance and marketing and supervised harvests in California as well as in Australia and Argentina. Bentley directed logistics including construction projects, warehouse procedures, bottling and more.
He was part of the team which guided Hundred Acre to prominence in the wine industry, most notably, perhaps, in generating a number of 100-point scores from key wine industry publications. A graduate of the University of Illinois, Urbana- Champaign, with a degree in communication, Bentley also has a commercial pilot's license. Bentley lives in St. Helena with his wife and their children.
After 25 years of working for corporate realtors, Robyn Bentley founded Wine Country Consultants in March 2016. Most recently, her firm represented both the buyer and seller in the recent acquisition of Kitchak Cellars by Jan Krupp of Krupp Brothers, former owner of Stagecoach Vineyards.
Other recent transactions Wine Country Consultants has assisted with are Sinegal Estate, Kieu Hoang Winery, Vogt Vineyard and Vinoce Vineyards. Wine Country Consultants focuses on legacy vineyards and wineries, and offers both brokerage and consulting services for premier wine growing regions around the world.
For the last ten years Bentley has worked from her offices in St. Helena, Portland (OR) and Walla Walla (WA). Wine Country Consultants also has affiliates in France, Italy, Argentina, South Africa and Australia. "My team and I bring a deep understanding of the historical importance every property holds," Bentley explains, "and we provide a group of professionals from the wine industry to assist each client with their own very specialized needs," she adds. "With Ross as a new member of our team we will be able to help clients on an even more granular scale with the nuances of estate vineyards, wineries, raw land and legacy properties," Bentley said.
Wine Country Consultants' St. Helena office is located at 1485 Main Street, Suite 301, 707/477-8420 and also has offices in Walla Walla, Portland and Bordeaux. More at www.winecc.net.
Region:
Napa & Sonoma