Sonoma's Matt Stornetta Selected for California's Agriculture Leadership Program
Posted on September 12, 2016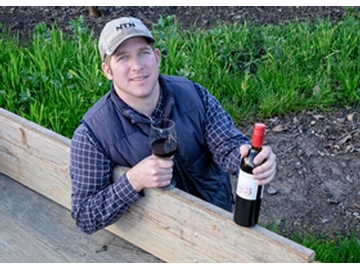 Sonoma winegrower Matt Stornetta joins twenty-threee statewide individuals that have been selected for Class 47 of the California Agricultural Leadership Program, an advanced leadership development experience for emerging agricultural leaders. The new fellows will be inaugurated into the program on Oct. 6 at the Clovis Veterans Memorial District.
Matt Stornetta was born and raised in the beautiful Sonoma Valley. He has had the pleasure of growing up as a fourth generation Sonoma farmer. "It is a blessing being able to farm the same ground that my grandfather and great grandfather raised their families on. Growing up was a pretty awesome time. When we weren't feeding cows we were causing all sorts of ruckus on ATVs. Fortunately for us, we knew how to use a tractor when we needed to pull ourselves out of a creek or a mud hole. Hunting, fishing and the outdoors have always been an important part of who I am."

After high school he attended the Santa Rosa Junior College until he moved down to San Luis Obispo where he attended Cuesta for a year. He was accepted into Cal Poly and graduated in 2010. Upon graduation he traveled to Casablanca, Chile where he worked a harvest at Veramonte Winery. In between working with the Sauvignon Blancs, Chardonnays and Pinots he was brought in by many of the locals he worked with. When he returned to the states he began working for Ned Hill at his then young company, La Prenda Vineyards Management. He accepted the job offer prior to his South America travels. The very formal interview occurred in a duck blind and was a no-brainer for him.
Sonoma Collection District 3 wines (www.sonomawinegrowers.com) offer Pinot Noir, Red Wine and Chardonnay. The wines are produced by Ned Hill and Matt Stornetta. Ned Hill is the owner of La Prenda Vineyards Management in Sonoma County, Matt Stornetta is his operations manager. La Prenda is the most progressive vineyard management company in Sonoma Valley. Suggested retail for all wines is under $20.
Sonoma Collection District 3 2013 Red Blend was recently selected by Wine Business Monthly as one of the "2015 Top 10 Hot Brands". Every year Wine Business Monthly creates their annual list of Top 10 Hot Brands, they look for "vintners, growers, wineries and wines that are making a statement in our industry". For more about the 2015 Hot Brands and Sonoma Collection District 3 visit: http://www.winebusiness.com/blog/?go=getBlogEntry&dataId=163253.
The 2014 Sonoma Collection District 3 'Growers Reserve' Sonoma Coast Chardonnay received 90 points from Wine Lines Online, while the 2013 Sonoma Collection Sonoma County District 3 'Growers Reserve' Sonoma County Chardonnay scored 91 points from The Pinot File. For further information about Sonoma Collection District 3 wines, contact Matt Stornetta at (707) 815-8771 or matt@laprendavineyards.com
About the California Agricultural Leadership Foundation (CALF)
Through dynamic seminars during an intensive 17-month program, fellows will study leadership theory, effective communication, motivation, critical and strategic thinking, change management, emotional intelligence and complex social and cultural issues.
Seminars are delivered by four partner universities: Cal Poly Pomona, Cal Poly San Luis Obispo, Fresno State and UC Davis. Fellows will participate in 55 seminar days, including an eight-day national travel seminar and a 15-day international travel seminar.
"We are extremely fortunate and grateful to have such knowledgeable Ag Leadership alumni participate in this selection process," said Barry Bedwell, president of the California Agricultural Leadership Foundation (CALF). "By all indications and thanks to those efforts, Class 47 represents another outstanding example of individuals eager to further their leadership development so they can make a positive difference for California agriculture."
CALF invests approximately $55,000 per fellow to participate in the program, which is underwritten by individual and industry donations. Ag Leadership is considered to be one of the premier leadership programs in the United States. Since it was first delivered in 1970, more than 1,200 men and women have participated in the program and have become influential leaders and active volunteers in the agriculture industry and other areas.
Class 47 Fellows:
Kevin Antongiovanni, Ten Star Farming Inc., Bakersfield
Tom Barrios, Barrios Farms Inc., Woodland
Jared Britschgi, Pearl Crop, Bakersfield
Casey Creamer, Kings River Conservation District, Fresno
Chris Drew, Ocean Mist, Castroville
Ted Grether, Grether Farming Co., Somis
Randi Gwilliam, Tulare Ag Products, Tulare
John Hay, Scribner Hay LLC, Bakersfield
Hans Herkert, Growers Ag Service, Yuba City
Stuart Hoetger, The Stogan Group, Chico
Nadav Ichaki, Nut Farmers LLC, Los Angeles
Tucker Knutz, Harris Feeding Company, Coalinga
Brad Koehn, Turlock Irrigation District, Turlock
Jenny Lester Moffitt, CA Department of Food and Ag, Sacramento
Hunter Lindemann, THL Enterprises, Gustine
John McKeon, Earthbound Farm, San Juan Bautista
Jason Miller, Miller Honey Farms, Newcastle
Darrin Monteiro, California Dairies Inc., Visalia
Matthew Patton, Elk Grove Unified School District, Elk Grove
Brad Reinhart, JG Boswell Company, Corcoran
Jill Scofield, California Beef Council, Sacramento
Matt Stornetta, La Prenda Vineyards, Sonoma
Douglas Thomas, Crown Nursery LLC, Red Bluff
Kiran Toor, Toor Farms, Yuba City
Region:
Napa & Sonoma
Job Function:
President/Owner/GM