Tulloch Vineyards names Michael (Jian) Cheng as Managing Director of Chinese Subsidiary
Posted on August 23, 2016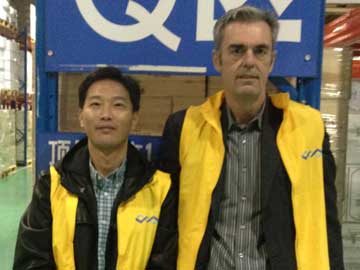 (Penticton, BC) Tulloch Vineyards (Tulloch) is pleased to announce that Michael (Jian) Cheng will become Managing Director of its wholly-owned subsidiary in Shanghai. Michael will be responsible for Chinese and Asian operations as Tulloch commences its first shipments of Okanagan wine later this year.

Michael has over 20 years experience representing European wineries in China, most notably establishing Italian and Spanish Brands from virtual unknowns to important market players. He has significant relationships with both traditional and on-line distribution channels. "Wine enthusiasts in China have plenty of access to old and new world wine regions while BC is seldom represented. I believe that consumers, when given the opportunity, will understand why BC wines are capturing worldwide recognition."

Stuart Wooldridge, CEO has known Michael for ten years and worked with him closely for the past two years. "We know BC wine is world class, and that the "BC" brand is strong in China. However the wine market is very competitive in China – the first two factors aren't enough to sell wine by themselves. What Mike brings is the professional skill and contacts to provide first-class representation that gets the wine onto wine lists and builds brands in what will be the world's most important wine market.
About Tulloch Vineyards:
Tulloch Vineyards represents three leading BC wineries as launch partners – Poplar Grove, Black Hills, and Okanagan Crush Pad. By building an inventory in China, and providing top-level support from winery partners through to the end consumer, the company is dedicated to building sustainable distribution channels and building the "BC Wine" brand.
Region:
British Columbia
Job Function:
President/Owner/GM, Sales/Marketing