Brassfield Estate Winery Hires Matt Hughes as Winemaker
Posted on June 16, 2016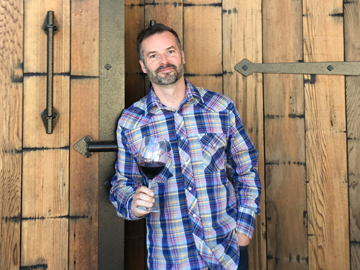 Clearlake Oaks, CA (June 9, 2016) – Brassfield Estate Winery has hired Matt Hughes as Director of Winemaking. Matt will continue Brassfield's collaboration with legendary consulting winemaker, David Ramey, in producing distinctive, handcrafted, estate-bottled wines at Brassfield Estate Winery's family-owned vineyard and winery in the High Valley AVA in California's North Coast region.
"There are so many possibilities in High Valley to make wines of very diverse styles yet stay true to the varietal, and to the vineyard's signature. I can't wait for harvest to begin!" said Mr. Hughes on his first day at Brassfield.
Mr. Hughes began his winemaking journey sixteen years ago in Lake County. He brings a wealth of local experience and a diverse background. He has held positions at Wildhurst Vineyards, Kendall-Jackson, Verite Estate and Six Sigma Ranch. Mr. Hughes was the founding chair of the Lake County Winery Association and remains an avid promoter of the area, its wines, and the people who produce them. Mr. Hughes' philosophy is built around crafting wines of distinction, allowing the unique properties of the vineyards to shine through and accent the story of each season.
About Brassfield Estate Winery
Brassfield Estate Winery, established in 2001, produces 100% estate-bottled wines. Approximately 270 sustainably farmed vineyard acres represent a myriad of microclimates, elevations and soil profiles of the 2,500 acre estate. The estate is also home to 1,000 acre wildlife preserve. The original ranch in the High Valley Appellation was one of the first homesteads in Lake County. Learn more at: www.brassfieldestate.com
Region:
Other North Coast
Job Function:
Winemaking