Long Island Merlot Alliance Elects New President, Juan Micieli-Martinez
Posted on March 29, 2016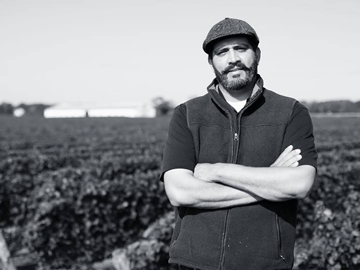 SOUTHOLD, NY (March 28, 2016) – The Long Island Merlot Alliance (LIMA) is proud to announce the election of Martha Clara Vineyards winemaker and general manager Juan Micieli-Martinez as its new organizational president.
Micieli-Martinez, who replaces outgoing president and current LIMA member Roman Roth, brings with him 17 years of experience in the Long Island wine industry—and, like Roth, a great passion for the merlot grape and the way it expresses itself in Long Island soil.
"Being in the industry as long as I have, it's exciting to have a role where I really have a chance to help the organization and the industry progress," Micieli-Martinez says. Indeed, in early 2015 he created the Long Island Merlot Alliance Block Registry, a program aimed at studying merlot vines with an eye toward understanding how the grape—the mostly widely grown vitis vinifera in Long Island—and its myriad clones expresses itself in soils on both the North and South Forks.
"Our maritime climate is certainly well suited to making interesting, fresh, fruit-driven, food-friendly wines," he says. "I'm really a scientist, and I believe that the work we're doing at LIMA is going to be important in learning more about the particularity of our wines and, thus, our unique terroir."
A Long Island native, Micieli-Martinez began his career at Pellegrini with the 1999 harvest, fresh out of SUNY Binghamton after completing a double major in Biology and Psychology. In 2000, he took a slight but integral detour to become a brewer for Southampton Publick House—an experience he found invaluable. Not only did he learn volumes about yeast and fermentation, but it also sparked in him an ahead-of-the-curve idea of putting wine in kegs.
In 2001, he landed at Premium Wine Group, Long Island's own custom-crush facility, and through its owner and one of his mentors, Russell Hearn, was given the opportunity to work a harvest at Houghton Winery in Western Australia, further expanding his winemaking knowledge. Back in Long Island, he became Pellegrini's production winemaker from 2002 to 2006. Micieli-Martinez spent a year as Shinn Estate Vineyards' winemaker from 2006 to 2007, at which time he left for his current position at Martha Clara Vineyards.
"Juan has such energy and is an incredibly steadfast and smart person, not to mention a talented winemaker and great visionary. I am so excited at what we're going to accomplish this year," says LIMA Executive Director Amy Zavatto.
About the Long Island Merlot Alliance
The Long Island Merlot Alliance (LIMA) is a not-for-profit trade organization, which strives to educate media, trade, and consumers on the quality of Long Island merlot and merlot-based blends. Participating wineries include Martha Clara Vineyards, McCall Wines, Raphael, T'Jara Vineyards, and Wolffer Estate Vineyard.
The group collectively produces a blend of their best merlot lots each year, culminating in the annual release of Merliance wine, a blend of merlot from each LIMA-member winery, which hail from the North Fork and the Hamptons American Viticultural Areas. The sale of Merliance wine funds the activities of the LIMA, from research initiatives to education and events.

Region:
Northeast, USA
Job Function:
President/Owner/GM